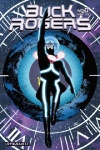 Paradox Entertainment, which is currently rebooting the Conan franchise, has acquired the rights to create a new Buck Rogers film and hired Paul W.S. Anderson (Alien vs. Predator, Resident Evil, Mortal Kombat) to direct the science fiction epic from a script by Iron Man scribes Matt Holloway and Art Marcum.
Paradox's Frederik Malmberg told Variety that "Buck Rogers is among our top priorities once we wrap Conan." Variety also indicated that the Buck Rogers film would likely be shot in 3D, which is currently all the rage in Tinseltown thanks to the success of Avatar and Alice in Wonderland.
In December of 2008 The Hollywood Reporter ran a story indicating that Frank Miller would write and direct a Buck Rogers film (see "Miller on Buck Rogers Movie"), but that was before Miller's film adaptation of Will Eisner's The Spirit bombed. Buck Rogers first appeared in the science fiction pulp magazine Amazing Stories, but found its greatest fame in a syndicated comic strip that ran from 1929 to 1967. Dynamite currently publishes a Buck Rogers comic book series.