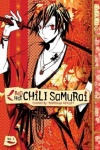 Red Hot Chili Samurai Vol. 1 (Manga)
Publisher: Tokyopop
Release Date: March 2010
Price: $10.99
Creator: Yoshitsugu Katagiri
Format: 208 pgs.; B&W
ISBN: 978-1-42781-720-4
Age Rating: Teen/Adult
ICv2 Rating: 2 Stars out of 5
This story probably seemed like a good idea, but the creator had trouble deciding what to do with it. The central character is a sword-wielding samurai who has an obsession with hot peppers that rivals Popeye and his spinach. His central goal seems to be to dispense justice in a vaguely-defined version of what might be Japan in an indeterminate time period.
The difficulty is that none of the characters have much in the way of real personality by the end of this first volume. Even the central character is a bit vague. We know that he's addicted to hot peppers, is a good swordsman when he's not suffering from chili pepper withdrawal, and follows order like a good samurai, but grumbles about it. His family and friends are even less well fleshed-out, as if they never got past the outline stage. The most amusing is a ninja who holds up signs instead of speaking. Unfortunately, that's pretty much the high point of the humor.
The individual chapters are disjointed and odd. Most seem to take place in what feels like 19th century Japan, but in one story a young inventor has very modern gadgets, and a 20th-century gun is shown.
The artwork is nice as individual panels, but not good storytelling. Actions occur, but don't flow well across the page, and in a typical oddity, a hostage is threatened by a bad guy holding a sheathed sword against his throat. I suppose he could seriously bruise him…
--
Nick Smith: Librarian Technician, Community Services, for the Pasadena Public Library in California.