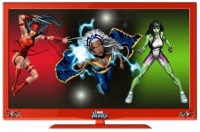 RTC23 is launching Marvel Comics character TVs/monitors using technology developed by parent Roundtable Concepts. In addition to decorative frames, the TVs use the 8 to 10 second delay when powering on to display an image featuring Marvel characters.
The TVs are being offered in 22, 32, 42, and 55 HD LCD screen sizes and 40 and 46 LED HDTVs.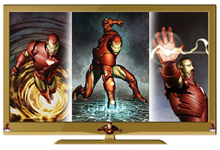 Character designs include
Heroes Women
(Elektra, Storm, and She Hulk),
Retro Incredible Hulk, Wolverine, Captain America, Iron Man
, and
Heroes
(Cap, Hulk, and Iron Man).
The company is currently running a buy one get one promotion on the 40" and 46" Iron Man LED HDTVs [since ended, ed.].