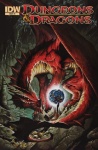 IDW Publishing, under license from Hasbro and Wizards of the Coast, will publish several all-new comic book series based on the Dungeons & Dragons Role-Playing Game. The first new series will begin with a Dungeons & Dragons Issue #0 in August with new monthly comics and reprints of past series launching in November.
IDW's Dungeons & Dragons comics will each offer new stories and playable characters to existing game campaigns. The first Dungeons & Dragons series will take place in the RPG's core world. It will be followed in January, 2011 by a Dark Sun series, with plans to launch a Forgotten Realms series later. The individual D&D comics will be collected at intervals into graphic novels, which will be widely distributed in comic book shops, bookstores and in the mass market.
Creative teams for the new series will be announced in the near future, but IDW has secured the services of fantasy painter Wayne Reynolds, who will supply the covers for the launch of each new series.
The D&D comics represent another addition to IDW's burgeoning line of licensed comic book series that also includes Transformers and G.I. Joe, which are both also licensed from Hasbro.