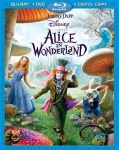 At C2E2 BOOM! Studios announced that it will be publishing a graphic novel adaptation of Tim Burton's Alice in Wonderland in June. BOOM! will publish its Alice in Wonderland graphic novel in both hardcover and softcover.
The publication of the BOOM! Studios graphic novel will more or less coincide with the release of Burton's film on DVD and Blu-ray on June 1st. Alice will be out in a number of disc formats including a 3-disc Blu-ray that also includes a standard DVD and single-disc DVD and Blu-ray version.
The most popular film of 2010 so far, Burton's Alice has earned nearly $325 million at the domestic box office and $827 million worldwide.