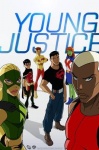 Cartoon Network announced a number of new shows in its upfront presentations this week, including new DC superteam show Young Justice, an animated Mad, and a reboot of Looney Tunes. Young Justice, produced by Warner Bros. Animation with Sam Register (Teen Titans, Ben 10, Batman: The Brave and the Bold) exec producing, will include Robin, Aqualad, Kid Flash, Superboy, Miss Martian and Artemis. The inclusion of Superboy is interesting, since the rights to the character have been in dispute (see "Judge Rules Siegel Heirs have Recaptured Superboy Rights"). Brandon Vietti (Batman: Under the Red Hood, Superman Doomsday, The Batman) and Greg Weisman (Gargoyles, The Spectacular Spider-man, W.I.T.C.H.) will produce.
The Mad animated series will feature comedy sketches on current movies, TV shows, games, and pop culture. Classic characters such as Alfred E. Neuman and Spy vs. Spy will appear. Register will exec produce for Warner Bros. Animation, and Kevin Shinick (Robot Chicken) and Mark Marek (KaBlam!, The Andy Milonakis Show) will produce.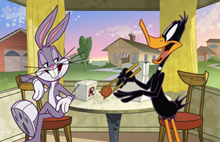 The
Looney Toons
reboot will put Bugs and Daffy in the burbs, along with other classic characters.
Musical numbers will be branded Merrie Melodies, and Road Runner and Wile E. Coyote will appear in CG shorts.