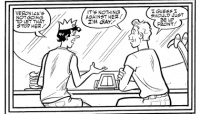 In a step that continues Archie Comics' move into the late 20th century (see "It Starts with a Kiss"), the company has announced that its first openly gay character will appear in Veronica #202. The story, "Isn't It Bromantic?," introduces new character Kevin Keller, who's the new hunk in Riverdale. Veronica sets her sights on him and pursues him, while Kevin tries to let her down easy.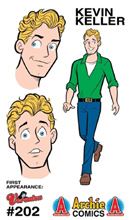 The company has been using PR-driven storylines to great effect in recent months, starting with the Archie wedding storyline, which continues in an alternate reality (see "
Archie Enters Alternate Reality
").
Veronica #202 streets on September 1st in comic stores, later elsewhere.