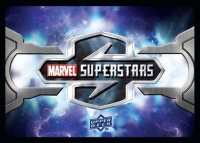 Upper Deck has tentatively moved the launch of its Marvel Superstars TCG, originally scheduled for February (see "Upper Deck Details Marvel Plans"), to October, according to a spokesperson for the company. The release date is being chosen because it is "better for holiday shopping opportunities."
Upper Deck had been quiet about its plans for the Marvel Superstars TCG since the wide-ranging layoffs at the company last month (see "Lay-Offs at Upper Deck"), limiting its comments to a statement indicating that it remained in the entertainment business (see "Upper Deck on Entertainment").
Upper Deck recently released its Iron Man II Trading Cards, which have sold well.