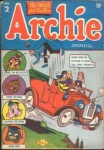 Surge Licensing has announced a number of new licensing deals for Archie Comics Publications, which is celebrating its 70th anniversary in 2011. Dark Horse, which has already announced its plans to reprint the flagship Archie comic book series in chronological order (see "Dark Horse Has Archies Too"), is also creating a line of limited-edition Archie character busts that will be available in August.
Asgard Press has acquired a license to create Archie calendars, posters, and journals, all of which will be available in the fourth quarter. Also coming in Q4 are t-shirts, hoodies, sweatshirts, sleepwear, and headgear featuring the likenesses of Archie, Betty, Veronica, Sabrina, the Teenage Witch, and Josie and the Pussycats all from Hybrid Apparel.
The latest round of licensing comes after Archie already announced deals with IDW (see "IDW to Publish Archie Collections") and Random House (see "Random House Gets Archie"), which along with the Dark Horse agreement will get collections of both classic and new Archie comics unprecedented exposure in the coming year.