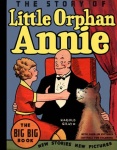 Tribune Media Services has announced that the Little Orphan Annie newspaper comic strip, which has enjoyed a tumultuous 86-year run, will end on June 13th. Created by Harold Gray in 1924, the controversial strip hit its peak of popularity in the 1930s and continued long after Gray's death in 1968. The once mighty strip ended not with a bang, but with a whimper. It was syndicated in a mere 20 papers at the time of its demise.
Notable for the pupil-less vacant eyes of its characters and for its celebration of the "old-fashioned" values of honesty and hard work, Little Orphan Annie shifted its focus from slapstick humor to adventure stories with political overtones as the depression took hold. Although Gray was attacked from the left for his anti-union views (especially evident in the 1935 "Eonite" storyline) and his attacks on the New Deal, the villains in the series were often corrupt businessmen.
During World War II Gray used the Annie strip to mobilize kids to set up groups of "Junior Commandos" who collected tons of scrap metal and paper for the war effort (and were no doubt indirectly responsible for the current scarcity of Golden Age comic books, since relatively few 1930s comics managed to survive World War II).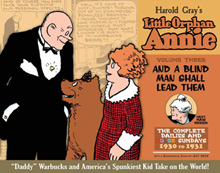 Fantagraphics reprinted the 1931-1935
Little Ophan Annie
daily and Sunday strips in the 1990s, and IDW Publishing has begun issuing a new reprint series
, The Complete Little Orphan Annie
under its Library of American Comics imprint (see "
IDW to Reprint Little Orphan Annie
").