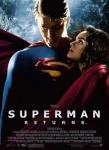 In an aggressive legal maneuver designed to protect its Superman rights, Warner Bros. has filed suit against Marc Toberoff, alleging that the lawyer for the families of Superman creators Jerome Siegel and Joe Shuster had interfered with agreements between the studio and the heirs and had finagled a deal that would give him 47.5% of any rights recovered.
Warner Bros.' suit alleges that the deal between Toberoff and the Superman heirs is illegal under copyright statutes. According to the New York Times, Warner's complaint "cites a timeline of Mr. Toberoff's attempts since 2001 to become involved with Superman." According to the complaint Toberoff and talent agent Ari Emmanuel (the reported inspiration for Entourage's super agent Ari Gold) attempted to persuade the Siegel heirs to file a lawsuit against Warner Bros. with the financial backing of an unnamed billionaire. The Times reports that the timeline was prepared by a lawyer who had worked for Toberoff.
Toberoff, who has had some success in pursuing rights cases against the studios, is currently representing the heirs of Jack Kirby in a dispute with Marvel Entertainment, which is now a division of the Walt Disney Company.
Toberoff characterized the studio's lawsuit as "a smear campaign" and "thug tactics."