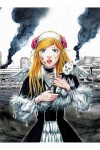 DC is closing down its CMX manga unit, effective July 1st. The company will cease publishing all CMX titles other than Megatokyo, its OEL title, which will continue under the DC Comics imprint.
We asked DC whether U.S. publishing rights would revert to the Japanese publishers or if DC was planning to try to sell or sub-license the rights, and received a "No comment" from a DC spokesperson.
In a statement on the shutdown, DC Co-publishers Dan Didio and Jim Lee said, "Over the course of the last six years, CMX has brought a diverse list of titles to America and we value the books and creators that we helped introduce to a new audience. Given the challenges that manga is facing in the American marketplace, we have decided that CMX will cease publishing new titles as of July 1, 2010."
The CMX shutdown marks another setback for DC in its efforts to broaden its demographic reach; it shut down its Minx unit in 2008 (see "DC Pulls the Plug on Minx").
The company provided a list of CMX's June titles, the final releases from the company:
May 26 ship, 6/23 in store
Musashi #9 Vol 17
Venus Capriccio Vol 4
Two Flowers for the Dragon Vol 6
Polyphonica: Cardinal Crimson Vol 1
June 2 ship, 6/30 in store
Stolen Hearts Vol 2
Teru Teru X Shonen Vol 7
Orfina Vol 8
The move comes in the wake of Viz Media's surprise 40% downsizing last week (see "Viz VPs Thinned"), another sign of a brutal market for manga, in which sales declined by over a third in the last two years (see "A Second Bad Year in a Row for Manga") and appear headed for another tough year this year.