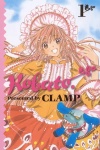 Kobato Vol. 1
Publisher: Yen Press
Release date: May 2010
Price: $11.99
Creator: CLAMP
Format: 164 pgs.; B&W
ISBN: 978-0-316-08536-6
Age rating: T/Teen for Language, Sexual Situations, Violence
ICv2 Rating: 3.5 Stars
Kobato has a wish, but in order to have it granted she must fill a bottle with wounded hearts she has cured and in order to get the bottle to be filled, she must first prove that she knows the ways of the world. The problem is her strict tutor—Ioryogi-san, an angry dog who spends most of his time screaming about Kobato's stupid antics.
Manga powerhouse group CLAMP kicks off a comedy series with this volume, but fans will need to hang on for the next one to get the full grasp of where the story is going. Kobato's tale dives right into the thick of things, without any explanation of who Kobato or Ioryogi are or why Kobato doesn't really understand the rules of human behavior. Along the way hints are dropped, drawing readers into the story. The humor is light and very silly, fashioned a little like manzai, the traditional Japanese comedy style.
In true CLAMP fashion, characters from their other series make cameo appearances. The art is as airy as the story and Kobato's clothes will have fashion-minded readers drooling. References to alcohol and prostitution, as well as some language, make this for teens.
--Snow Wildsmith: Writer and former teen librarian and ALA/YALSA committee member.