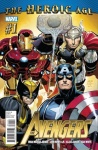 These are estimates of the sales on comic books by Diamond
U.S.
to comic specialty stores during May 2010.
For an overview and analysis of comic sales in May, see "'Avengers' Launch Over 163K."
For an analysis of the dollar trends in May, see "Comic Sales Turn Around in May."
For our estimates of actual sales by Diamond
U.S.
from comic specialty stores on graphic novels shipped during May, see "
Top 300 Graphic Novels Actual--May 2010
."
TOP 300 COMICS -- May 2010

Rank

Index

Title

Price

Pub

Est.Qty

1

262.70

AVENGERS #1

$3.99

MAR

163,867

2

182.36

SIEGE #4

$3.99

MAR

113,752

3

174.00

BATMAN RETURN OF BRUCE WAYNE #1

$3.99

DC

108,534

4

171.14

SECRET AVENGERS #1

$3.99

MAR

106,750

5

165.65

BRIGHTEST DAY #1 (*)

$2.99

DC

103,326

6

150.06

BATMAN RETURN OF BRUCE WAYNE #2

$3.99

DC

93,606

7

144.68

BRIGHTEST DAY #2 (*)

$2.99

DC

90,245

8

141.55

GREEN LANTERN #54

$2.99

DC

88,292

9

136.02

BATMAN AND ROBIN #12

$2.99

DC

84,843

10

123.53

UNCANNY X-MEN #524

$2.99

MAR

77,056

11

123.31

NEW AVENGERS FINALE #1

$4.99

MAR

76,918

12

122.74

FLASH #2

$2.99

DC

76,560

13

114.64

DARK AVENGERS #16

$3.99

MAR

71,509

14

110.34

GREEN LANTERN CORPS #48

$2.99

DC

68,826

15

103.96

X-MEN LEGACY #236

$2.99

MAR

64,850

16

100.21

X-FORCE #27

$2.99

MAR

62,509

17

100.14

JUSTICE LEAGUE OF AMERICA #45

$3.99

DC

62,465

18

100.00

BATMAN #699

$2.99

DC

62,377

19

99.04

THOR #610 EPILOGUE

$2.99

MAR

61,779

20

97.60

SENTRY FALLEN SUN

$3.99

MAR

60,883

21

92.93

AMAZING SPIDER-MAN #630

$2.99

MAR

57,969

22

91.76

AMAZING SPIDER-MAN #631

$2.99

MAR

57,239

23

90.94

AMAZING SPIDER-MAN #632

$2.99

MAR

56,723

24

90.61

ASTONISHING SPIDER-MAN WOLVERINE #1

$3.99

MAR

56,518

25

88.86

ASTONISHING X-MEN XENOGENESIS #1

$3.99

MAR

55,428

26

85.97

INVINCIBLE IRON MAN #26

$2.99

MAR

53,625

27

85.49

ULTIMATE COMICS NEW ULTIMATES #2

$3.99

MAR

53,323

28

84.87

ULTIMATE COMICS AVENGERS 2 #2

$3.99

MAR

52,939

29

81.41

JUSTICE LEAGUE GENERATION LOST #1

$2.99

DC

50,784

30

80.84

BIRDS OF PREY #1

$2.99

DC

50,428

31

79.55

HULK #22

$3.99

MAR

49,618

32

79.49

NEW MUTANTS #13

$2.99

MAR

49,583

33

77.52

SUPERMAN WAR OF THE SUPERMEN #1

$2.99

DC

48,357

34

74.82

INCREDIBLE HULK #609

$3.99

MAR

46,670

35

74.25

DARK WOLVERINE #86

$2.99

MAR

46,315

36

72.86

BUFFY THE VAMPIRE SLAYER #35 TWILIGHT PT 4

$2.99

DAR

45,446

37

71.87

SUPERMAN WAR OF THE SUPERMEN #2

$2.99

DC

44,828

38

71.68

JUSTICE LEAGUE GENERATION LOST #2

$2.99

DC

44,711

39

71.20

LEGION OF SUPER HEROES #1

$3.99

DC

44,415

40

69.03

SUPERMAN WAR OF THE SUPERMEN #3

$2.99

DC

43,056

41

68.55

DEADPOOL #23

$2.99

MAR

42,761

42

68.03

SUPERMAN WAR OF THE SUPERMEN #4

$2.99

DC

42,436

43

66.92

X-FACTOR #205

$2.99

MAR

41,745

44

66.53

DETECTIVE COMICS #865

$3.99

DC

41,501

45

66.35

AMAZING SPIDER-MAN ANNUAL #37

$3.99

MAR

41,388

46

64.21

SIEGE EMBEDDED #4

$3.99

MAR

40,054

47

63.63

ULTIMATE COMICS SPIDER-MAN #10

$3.99

MAR

39,690

48

62.51

WOLVERINE #900

$4.99

MAR

38,990

49

61.59

FANTASTIC FOUR #579

$2.99

MAR

38,415

50

61.17

AVENGERS INITIATIVE #35

$2.99

MAR

38,158

51

58.15

RED ROBIN #12

$2.99

DC

36,273

52

57.71

WOLVERINE ORIGINS #48

$2.99

MAR

35,999

53

56.88

X-MEN SECOND COMING REVELATIONS BLIND SCIENCE #1

$3.99

MAR

35,483

54

55.78

ADVENTURE COMICS #11

$3.99

DC

34,794

55

55.20

DC UNIVERSE LEGACIES #1

$3.99

DC

34,429

56

54.01

ZATANNA #1

$2.99

DC

33,691

57

53.82

AGE OF HEROES #1

$3.99

MAR

33,573

58

53.46

X-MEN HELLBOUND #1

$3.99

MAR

33,345

59

53.35

THUNDERBOLTS #144

$2.99

MAR

33,276

60

52.94

IZOMBIE #1 (MR)

$1.00

DC

33,025

61

51.38

SUPERMAN BATMAN #72

$2.99

DC

32,047

62

50.85

TITANS VILLAINS FOR HIRE SPECIAL #1

$4.99

DC

31,718

63

50.25

MARVELS PROJECT #8

$3.99

MAR

31,345

64

50.09

JUSTICE LEAGUE THE RISE OF ARSENAL #3

$3.99

DC

31,246

65

49.22

FIRST WAVE #2

$3.99

DC

30,705

66

49.18

DEADPOOL MERC WITH A MOUTH #11

$2.99

MAR

30,677

67

47.73

WOLVERINE WEAPON X #13

$3.99

MAR

29,773

68

47.64

THANOS IMPERATIVE IGNITION #1

$3.99

MAR

29,716

69

47.04

SECRET WARRIORS #16

$2.99

MAR

29,340

70

46.77

IRON MAN LEGACY #2

$2.99

MAR

29,175

71

45.92

BATGIRL #10

$2.99

DC

28,641

72

45.38

DOOMWAR #4

$3.99

MAR

28,307

73

45.27

DEADPOOL CORPS #2

$2.99

MAR

28,236

74

44.58

FALL OF HULKS SAVAGE SHE-HULKS #3

$3.99

MAR

27,809

75

44.27

ULTIMATE COMICS ENEMY #4

$3.99

MAR

27,612

76

42.61

DEADPOOL TEAM-UP #893

$2.99

MAR

26,578

77

42.50

AMERICAN VAMPIRE #3 (MR)

$3.99

DC

26,510

78

42.15

KEVIN SMITH GREEN HORNET #4

$3.99

DE

26,292

79

42.12

DARK TOWER GUNSLINGER JOURNEY BEGINS #1

$3.99

MAR

26,275

80

41.73

GOTHAM CITY SIRENS #12

$2.99

DC

26,029

81

40.79

BATMAN STREETS OF GOTHAM #12

$3.99

DC

25,446

82

40.79

WONDER WOMAN #44

$2.99

DC

25,443

83

40.57

JSA ALL STARS #6

$3.99

DC

25,306

84

40.37

WALKING DEAD #72 (MR)

$2.99

IMA

25,182

85

40.01

TEEN TITANS #83

$3.99

DC

24,960

86

37.49

BLACK WIDOW #2

$2.99

MAR

23,384

87

36.70

MARVEL ZOMBIES 5 #3

$3.99

MAR

22,894

88

36.48

ATLAS #1

$3.99

MAR

22,756

89

36.18

HELLBOY IN MEXICO OR DRUNKEN BLUR ONE SHOT

$3.50

DAR

22,569

90

35.80

SECRET SIX #21

$2.99

DC

22,334

91

35.59

PUNISHERMAX #7 (MR)

$3.99

MAR

22,198

92

35.49

ENTER THE HEROIC AGE #1

$3.99

MAR

22,139

93

35.44

AVENGERS ORIGIN #2

$3.99

MAR

22,108

94

34.88

BRAVE AND THE BOLD #34

$2.99

DC

21,758

95

34.43

BOYS #42 (MR)

$2.99

DE

21,479

96

33.15

POWER GIRL #12

$2.99

DC

20,681

97

33.02

VENGEANCE OF MOON KNIGHT #8

$2.99

MAR

20,597

98

32.66

AMAZING SPIDER-MAN PRESENTS AMERICAN SON #1

$3.99

MAR

20,375

99

32.66

HEROIC AGE PRINCE OF POWER #1

$3.99

MAR

20,373

100

32.61

BOOSTER GOLD #32

$2.99

DC

20,343

101

32.21

X-MEN ORIGINS EMMA FROST #1 (MR)

$3.99

MAR

20,093

102

32.07

HAUNT #7 (MR)

$2.99

IMA

20,005

103

31.99

STAR WARS LEGACY #48

$2.99

DAR

19,954

104

31.95

FABLES #95 (MR)

$2.99

DC

19,932

105

31.61

KEVIN SMITH KATO #1

$3.99

DE

19,720

106

31.46

WEB OF SPIDER-MAN #8

$3.99

MAR

19,623

107

30.58

DOC SAVAGE #2

$3.99

DC

19,073

108

29.44

SPAWN #197

$2.99

IMA

18,361

109

28.71

STAR WARS INVASION RESCUES #1

$2.99

DAR

17,911

110

28.39

DAREDEVIL CAGE MATCH #1

$2.99

MAR

17,711

111

28.26

MYSTERY SOCIETY #1

$3.99

IDW

17,630

112

28.09

ANGEL #33

$3.99

IDW

17,521

113

27.29

SPECTACULAR SPIDER-GIRL #1

$3.99

MAR

17,025

114

26.81

JOE THE BARBARIAN #5

$2.99

DC

16,725

115

26.16

DAZZLER #1

$3.99

MAR

16,320

116

25.19

RESCUE #1

$3.99

MAR

15,711

117

25.05

GREEN HORNET STRIKES #1

$3.99

DE

15,626

118

24.82

CAPTAIN AMERICA BLACK PANTHER FLAGS OF FATHERS #2

$3.99

MAR

15,480

119

24.80

STEPHEN KINGS N #3

$3.99

MAR

15,470

120

24.49

BATMAN CONFIDENTIAL #44

$2.99

DC

15,279

121

24.23

AVENGERS ASSEMBLE #1

$3.99

MAR

15,113

122

24.12

X-MEN FOREVER #23

$3.99

MAR

15,045

123

23.95

X-MEN FOREVER #24

$3.99

MAR

14,940

124

23.85

NEW AVENGERS LUKE CAGE #2

$3.99

MAR

14,878

125

22.94

REALM OF KINGS SON OF HULK #4

$3.99

MAR

14,312

126

22.88

SPIRIT #2

$3.99

DC

14,274

127

22.49

IRON MAN 2 PUBLIC IDENTITY #2

$3.99

MAR

14,030

128

22.37

GREEN HORNET YEAR ONE #3

$3.99

DE

13,954

129

21.88

IRON MAN 2 PUBLIC IDENTITY #3

$3.99

MAR

13,645

130

21.59

UNWRITTEN #13 (MR)

$2.99

DC

13,467

131

21.28

ORIGINS OF MARVEL COMICS #1

$3.99

MAR

13,274

132

20.80

GUILD #3

$3.50

DAR

12,972

133

20.68

ASTRO CITY THE DARK AGE BOOK FOUR #4

$4.99

DC

12,900

134

20.51

X-FACTOR FOREVER #3

$3.99

MAR

12,794

135

20.49

IRREDEEMABLE #13

$3.99

BOO

12,784

136

20.48

GI JOE #18

$3.99

IDW

12,776

137

20.07

BPRD KING OF FEAR #5

$2.99

DAR

12,519

138

20.06

PETER PARKER #3

$2.99

MAR

12,514

139

19.82

MARVELOUS LAND OF OZ #6

$3.99

MAR

12,366

140

19.77

DOOM PATROL #10

$2.99

DC

12,334

141

19.23

EX MACHINA #49 (MR)

$2.99

DC

11,994

142

19.13

TRANSFORMERS ONGOING #7

$3.99

IDW

11,932

143

18.70

SPIDER-MAN FEVER #2

$3.99

MAR

11,665

144

18.47

MANY LOVES OF AMAZING SPIDER-MAN #1

$3.99

MAR

11,522

145

18.46

INCORRUPTIBLE #6

$3.99

BOO

11,517

146

18.16

JONAH HEX #55

$2.99

DC

11,327

147

17.83

REBELS #16

$2.99

DC

11,120

148

17.83

WEAPON X NOIR #1

$3.99

MAR

11,119

149

17.81

AVP THREE WORLD WAR #4

$3.50

DAR

11,112

150

17.70

GI JOE HEARTS AND MINDS #1

$3.99

IDW

11,039

151

17.20

FATHOM BLUE DESCENT #0

$2.50

ASP

10,731

152

17.07

GI JOE ORIGINS #15

$3.99

IDW

10,650

153

17.07

WITCHBLADE #136

$2.99

IMA

10,649

154

16.40

AZRAEL #8

$2.99

DC

10,228

155

16.28

HELLBLAZER #267 (MR)

$2.99

DC

10,155

156

16.24

PROJECT SUPERPOWERS CHAPTER TWO #9

$2.99

DE

10,132

157

16.17

MARVEL ZOMBIES MGC #1

$1.00

MAR

10,084

158

15.62

X-MEN PIXIE STRIKES BACK #4

$3.99

MAR

9,746

159

15.48

SWEET TOOTH #9 (MR)

$2.99

DC

9,654

160

15.35

DAYTRIPPER #6

$2.99

DC

9,574

161

15.23

GOD OF WAR #2

$3.99

DC

9,501

162

15.20

ANITA BLAKE CIRCUS OF DAMNED CHARMER #1 OF (5) (MR)

$3.99

MAR

9,484

163

14.86

IRON MAN NOIR #2

$3.99

MAR

9,268

164

14.85

GIRL COMICS #2

$4.99

MAR

9,263

165

14.83

HOUSE OF MYSTERY #25 (MR)

$2.99

DC

9,253

166

14.82

GALACTA DAUGHTER OF GALACTUS #1

$3.99

MAR

9,243

167

14.46

TRANSFORMERS IRONHIDE #1

$3.99

IDW

9,019

168

14.31

DARKNESS DARKCHYLDE WITCHBLADE KINGDOM OF PAIN (ONE SHOT)

$4.99

IMA

8,927

169

13.64

HALO BLOOD LINE #5

$3.99

MAR

8,510

170

13.64

DEATHLOK #7

$3.99

MAR

8,506

171

13.57

JONAH HEX #1 NEW PTG

$1.00

DC

8,463

172

13.57

GRIMM FAIRY TALES ANNUAL LAS VEGAS

$5.99

ZEN

8,462

173

13.10

GFT INFERNO #1

$2.99

ZEN

8,170

174

13.09

CREEPY COMICS #3

$4.99

DAR

8,165

175

13.04

TAROT WITCH OF THE BLACK ROSE #62 (MR)

$2.95

BRO

8,131

176

13.01

GI JOE OPERATION HISS #4

$3.99

IDW

8,118

177

12.99

TRANSFORMERS LAST STAND O/T WRECKERS #5

$3.99

IDW

8,105

178

12.87

MADAME XANADU #23 (MR)

$2.99

DC

8,028

179

12.76

TINY TITANS #28

$2.50

DC

7,959

180

12.69

WARLORD #14

$2.99

DC

7,915

181

12.66

INCORRUPTIBLE #5

$3.99

BOO

7,900

182

12.58

ANGEL BARBARY COAST #2

$3.99

IDW

7,844

183

12.48

HEROIC AGE PREVIEWS (BUNDLE OF 25) (NET)

$10.00

MAR

7,787

184

12.36

SPIDER-MAN #2

$2.99

MAR

7,709

185

12.31

PILOT SEASON STEALTH #1

$2.99

IMA

7,676

186

12.29

SAM & TWITCH WRITER #1

$2.99

IMA

7,667

187

12.23

SWORD #24 (MR)

$4.99

IMA

7,631

188

12.23

NORTHLANDERS #28 (MR)

$2.99

DC

7,630

189

12.06

TERMINATOR #3

$3.50

DAR

7,520

190

11.79

TRANSFORMERS NEFARIOUS #3

$3.99

IDW

7,354

191

11.79

BLACK TERROR #10

$3.50

DE

7,352

192

11.70

AUTHORITY #22

$2.99

DC

7,295

193

11.65

MAGOG #9

$2.99

DC

7,264

194

11.48

SIMPSONS COMICS #166

$2.99

BON

7,161

195

11.46

RED SONJA WRATH OF THE GODS #4

$3.99

DE

7,150

196

11.36

HELLBLAZER #1 NEW PTG

$1.00

DC

7,089

197

11.25

MIGHTY CRUSADERS SPECIAL #1

$4.99

DC

7,017

198

11.21

X-MEN SECOND COMING #1

$3.99

MAR

6,990

199

11.13

CHOKER #3

$3.99

IMA

6,945

200

11.08

AMORY WARS KEEPING SECRETS OF SILENT EARTH 3 #1

$3.99

BOO

6,909

201

10.91

NEW MUTANTS #12

$2.99

MAR

6,807

202

10.86

SAM & TWITCH WRITER #2

$2.99

IMA

6,775

203

10.84

DMZ #53 (MR)

$2.99

DC

6,759

204

10.81

DOCTOR WHO ONGOING #11

$3.99

IDW

6,743

205

10.69

DV8 GODS AND MONSTERS #2

$2.99

DC

6,671

206

10.63

SCALPED #38 (MR)

$2.99

DC

6,632

207

10.60

TERRY MOORES ECHO #21

$3.50

ABS

6,611

208

10.48

WHATEVER HAPPENED TO BARON VON SHOCK #1 (MR)

$3.99

IMA

6,534

209

10.44

SHIELD #1

$3.99

MAR

6,513

210

10.35

SOULFIRE VOLUME TWO #5

$2.99

ASP

6,458

211

10.34

STAR TREK MCCOY #2

$3.99

IDW

6,450

212

10.32

SCALPED #1 NEW PTG

$1.00

DC

6,438

213

10.27

SONIC UNIVERSE #16

$2.99

ARC

6,406

214

10.27

SUPERNATURAL BEGINNINGS END #5

$2.99

DC

6,403

215

10.25

COMPLETE ALICE IN WONDERLAND #4

$4.99

DE

6,396

216

10.20

SUPER HEROES #2

$2.99

MAR

6,360

217

10.17

SHADOWHAWK #1 (MR)

$3.50

IMA

6,345

218

10.16

LOCKJAW AND PET AVENGERS UNLEASHED #3

$2.99

MAR

6,339

219

10.02

NEMESIS THE IMPOSTORS #3

$2.99

DC

6,252

220

9.97

HUMAN TARGET #4

$2.99

DC

6,222

221

9.96

EARP SAINTS FOR SINNERS #0

$1.00

RAL

6,212

222

9.92

WILDCATS #23

$2.99

DC

6,185

223

9.91

ELECTRIC ANT #2

$3.99

MAR

6,181

224

9.88

ASTOUNDING WOLF-MAN #23

$2.99

IMA

6,160

225

9.82

GREEK STREET #11 (MR)

$2.99

DC

6,128

226

9.80

GREAT TEN #7

$2.99

DC

6,112

227

9.78

BATMAN THE BRAVE AND THE BOLD #17

$2.50

DC

6,103

228

9.73

FUTURAMA COMICS #49

$2.99

BON

6,071

229

9.69

BUCK ROGERS #11

$3.50

DE

6,045

230

9.45

ACTION COMICS #858 NEW PTG

$1.00

DC

5,896

231

9.41

HER-OES #2

$2.99

MAR

5,871

232

9.33

DEMO VOL 2 #4

$2.99

DC

5,818

233

9.29

AUTHORITY #1 NEW PTG

$1.00

DC

5,792

234

9.13

ROBERT JORDAN WHEEL OF TIME EYE O/T WORLD #2

$3.99

DE

5,694

235

9.06

THOR AND WARRIORS FOUR #2

$2.99

MAR

5,651

236

9.04

SUPER HERO SQUAD #5

$2.99

MAR

5,639

237

9.02

BROKEN TRINITY PANDORAS BOX #2

$3.99

IMA

5,628

238

8.99

STAR TREK CAPTAINS LOG HARRIMAN #1

$3.99

IDW

5,610

239

8.81

ALIAS MGC #1 (MR)

$1.00

MAR

5,497

240

8.76

UNKNOWN SOLDIER #20 (MR)

$2.99

DC

5,466

241

8.74

DO ANDROIDS DREAM DUST TO DUST #1

$3.99

BOO

5,449

242

8.73

DARKSTALKERS NIGHT WARRIORS #2

$3.95

UDO

5,445

243

8.73

GARTH ENNIS BATTLEFIELDS #6

$3.50

DE

5,444

244

8.67

SAVAGE DRAGON #160

$3.50

IMA

5,411

245

8.52

MARVEL 1602 MGC #1

$1.00

MAR

5,312

246

8.52

X-FORCE #26

$2.99

MAR

5,312

247

8.46

FARSCAPE ONGOING #7

$3.99

BOO

5,275

248

8.34

SHIELD #9

$3.99

DC

5,201

249

8.27

STARGATE VALA MAL DORAN #1

$3.99

DE

5,160

250

8.23

AGENTS OF ATLAS MGC #1

$1.00

MAR

5,136

251

8.18

AIR #21 (MR)

$2.99

DC

5,104

252

8.01

AVENGERS THOR CAPTAIN AMERICA OFFICIAL INDEX #1

$3.99

MAR

4,997

253

8.00

STAR TREK MOVIE ADAPTATION #4

$3.99

IDW

4,993

254

7.93

FARSCAPE SCORPIUS #1

$3.99

BOO

4,945

255

7.87

UNCANNY X-MEN #523

$2.99

MAR

4,909

256

7.77

ARCHIE #609

$2.99

ARC

4,848

257

7.71

SENSE & SENSIBILITY #1

$3.99

MAR

4,809

258

7.68

WOLFSKIN HUNDREDTH DREAM #2

$3.99

AVA

4,788

259

7.53

SIMPSONS SUMMER SHINDIG #4

$4.99

BON

4,695

260

7.52

SUPER FRIENDS #27

$2.50

DC

4,688

261

7.46

X-MEN LEGACY #235

$2.99

MAR

4,653

262

7.44

WEB #9

$3.99

DC

4,640

263

7.41

28 DAYS LATER #10

$3.99