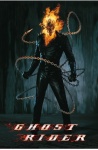 The Hollywood trades are reporting that Nicolas Cage is in negotiations to return to the big screen as Johnny Blaze in a sequel to the 2007 Marvel Comics-based Ghost Rider film. Sony is in a hurry to get the production underway by this fall since the rights to the character could revert back to Marvel via a "use it or lose it" clause unless production begins this year.
The sequel, which is now titled Ghost Rider: Spirit of Vengeance, will be based on a script by David Goyer and directed by the team of Mark Neveldine and Brian Taylor (Crank, Gamer). Neveldine and Taylor also penned the adaptation of DC's Jonah Hex that is due to debut this weekend.
Sony's eleventh-hour attempt to hold on to the Ghost Rider rights comes in spite of the fact that the 2007 film, which cost $110 million and earned $229 million worldwide, didn't quite break even theatrically, though it probably ended up in the black thanks to nearly $100 million worth of DVD sales. Sony, which with the exception of Spider-Man has been able to develop any comic book-based properties, is hoping to improve its chances of profitability on the Ghost Rider sequel by keeping the production costs down.