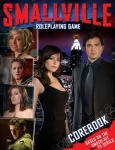 Margaret Weis Productions has added another game title with a tie-in to a popular media property with the Smallville Roleplaying Game, scheduled to release in August 2010.
Based on the CW's TV series of the same name, Smallville focuses on super-powered action and coming-of-age drama. Players can take on the role of familiar characters from the series, such as Clark, Lois, or Oliver, or they can invent their own original characters and insert them into the world of Smallville.
The game uses an updated version of Margaret Weis Productions' Cortex System called Cortex Plus, featuring the same core mechanics as its Serenity RPG and other products. Cortex Plus focuses on the character's values and relationships.
The Smallville design team is lead by Cam Banks. The 192-page rulebook includes complete game rules and full-color interior pages. This will be a hardcover book. Suggested retail price will be $39.99. Stock number is MWP 1030.
Planned follow-up books include the Smallville High School Yearbook for October, and The Watchtower Report for December.