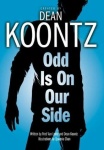 Del Rey Books has announced that it acquired two new graphic novels featuring Odd Thomas, perhaps the most memorable and beloved character ever created by Dean Koontz. Odd Thomas, a young fry cook from Pico Mundo, California who has the ability to communicate with the dead, has appeared in four New York Times bestselling novels, Odd Thomas, Forever Odd, Brother Odd, and Odd Hours.
Del Rey has already published one Odd Thomas graphic novel, In Odd We Trust, which is now in its sixth printing. A second Odd Thomas GN, Odd Is on Our Side by Fred Van Lente is due to be released on October 5th, 2010.
Like the first two Odd Thomas graphic novels, the pair of newly acquired books will be original stories set in the time period before the events of Odd Thomas, the first of the Odd Thomas prose novels. The new books will be based on extensive outlines created by Dean Koontz, who is carefully plotting the entire series. The first of the new titles, Odd is My Co-Pilot will be written by James Kuhoric and illustrated by Queenie Chan, who has drawn the first two Odd Thomas graphic novels. The second new GN, which is as yet untitled, will be scripted by Landry Q. Walker with art by the Ikari Studio. Publication of the two new Odd Thomas graphic novels is set for 2011 and 2012.