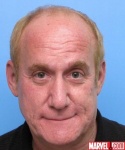 Today Marvel Entertainment announced the appointment of Jeph Loeb as Executive Vice President, Head of Television a newly created department. In his new role Loeb will work with Dan Buckley, Publisher of Marvel's Print, Animation, and Digital Divisions, to create both live-action and animated shows based on Marvel's extensive catalog of characters.
A four-time Eisner Award winner, Loeb has written comic book sagas for a veritable "Who's Who" of superheroes including Captain America, Iron Man, Spider-Man, Batman, Superman, X-Men, Hulk, Daredevil, and the Avengers. Loeb, who graduated from Brandeis with a B.A. and a Master's Degree in Film, has also had extensive experience in both movies and television where he was a writer/producer for Smallville (he introduced "Red Kryptonite"). He later became a writer/producer on Lost during that show's second season before he left to become co-Executive Producer on the NBC superhero series, Heroes.
Loeb spoke on his journey from comics to other media and the changes in the industry in his keynote address at last year's ICv2 Conference on Comics and Media (see "Jeph Loeb on How Comics Became Hollywood Inspiration").
The appointment of Loeb, whose career spans both comic books and live action television, indicates that Marvel is intent on moving into the live TV arena. Marvel has scored signal successes in the feature film world and held its own (in comparison with DC) in television animation, but it has lagged behind its Big 2 competitor in live action TV, where the Superman-based Smallville has been a long-running success that Marvel as yet has been unable to match.