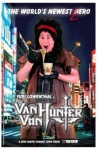 Tokyopop has announced an agreement with the Internet media distribution site Hulu under the terms of which Hulu will present premieres of Tokyopop's long-form content including the avant garde anime feature Spring & Chaos, the live-action manga-based Van Von Hunter, a new reality series, America's Greatest Otaku, and a selection of Tokyopop's Manga Motion Comics.
Spring & Chaos, the anime biography of poet Kenji Miyazawa directed by Shoji Kawamori (see "Tokyopop's First Anime Release"), is available now at the Tokyopop showpage on Hulu. Upcoming features include the rarely seen Van Von Hunter (see "Interview with Tokyopop's Stuart Levy, Part 3"), Tokyopop's first live-action feature, a Spinal Tap-like mockumentary featuring the talented voice actor Yuri Lowenthal (Naruto, Ben 10). Directed by Tokyopop founder Stu Levy and Steven Calcote, Van Von Hunter will be screened at the Fantasia Film Festival in Montreal on July 17th, and will then be available on Hulu sometime late in July.
Tokyopop's first reality show, America's Greatest Otaku, which will take viewers to 20 different North American cities in an 8-episode immersive search for the most fanatical fan of manga and anime in the country, will premiere exclusively on Hulu late this fall.
The selection of Manga Motion Comics, which will include several world premieres, will begin showing on Hulu this summer.