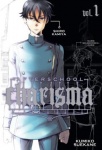 Afterschool Charisma Vol. 1 (Manga)
Publisher: VIZ Media
Release Date: June 2010
Price: $12.99
Creator: Kumiko Suekane
Format: 208 pgs.; B&W
ISBN: 978-1-4215-3397-1
Age Rating: OT/Older Teen
ICv2 Rating: 4 Stars out of 5
Shiro is the only student in his school who is not a clone of a famous historical figure, but he still cares for his fellow students. When a clone is murdered, Shiro and his classmates realize that the danger to them may be greater than just one random attacker.
Suekane effortlessly blends teenage anxieties with a subtly built sense of foreboding. The students at St. Kleio Academy worry about their place in the world, bicker, think about sex, and other normal teenage activities. A few cheesy elements to the story do not detract from the power of the clones' and Shiro's emotions. Suekane's art transforms all of the clones into very attractive young men and women, but that beauty seems to be as much of a burden as the historical expectations which weigh the clones down.
Violence is present, but not drawn too graphically unless needed to add the proper punch to the story. There is some full-frontal female nudity, played for comedic effect in both the story and the afterword, but even that fits in with the normal teenage responses of Suekane's characters. Readers will be left begging for volume two, eager to see what will happen next.
--
Snow Wildsmith: Writer and former teen librarian and ALA/YALSA committee member.