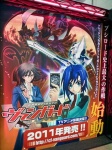 At the Tokyo Toy Fair the gamemaker Bushiroad unveiled a new card game, Cardfight!! Vanguard, a collaboration between manga-ka Akira Ito (Yu-Gi-Oh! R), the original Duel Masters technical advisor Satoshi Nakamura, and Bushiroad President Takaaki Kidani.
The new card game is due out next year in Japan. According to The Anime News Network, the game will be supported by both a TV anime series, which has been green-lit, and a manga.
While not every CCG that is a big hit in Japan is able to make inroads in the U.S. (Duel Masters remains huge in Japan, but in spite of the best efforts of WotC and the Cartoon Network, it failed to gain traction here), because of the people involved, Cardfight!! Vanguard is a property worth watching.