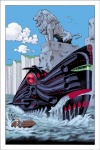 At the San Diego Comic-Con Top Shelf Comix revealed that the second 72-page installment of the League of Extraordinary Gentlemen: Century epic by Alan Moore (Watchmen) and Kevin O'Neill will be released in 2011. The League of Extraordinary Gentlemen: Century Chapter 2: Paint It Black takes place in swinging London in 1969.
The League is now down to just three members as the Mina Murray and her dwindling cohort confront the hippy and criminal subcultures and have to deal with the dodgy world of occultists attempting to prevent the rise of the Antichrist.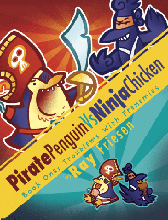 While the
LOEG
graphic novels are definitely for adults as is much of Top Shelf's alternative-dominated list, the publisher has developed a number of excellent series for young readers including
Owly, Korgi
, and
Johnny Boo
.
At CCI Top Shelf unveiled five new graphic novels for kids including
Pirate Penguin vs. Ninja Chicken
based on the Webcomic by Ray Friesen,
Maddy Kettle
by Eric Orchard about an 11-year-old girl whose parents have been turned into kangaroo rats,
Upside Down
by Jess Smart Smiley, the saga of a candy-loving vampire in danger of losing his incisors,
Monster on the Hill
by Rob Harrell, a gentle tale about a Victorian monster who isn't quite scary enough, and
Okie, Dokie Donuts
by Chris "Elio" Eliopoulos, a humorous story set in a donut shop.