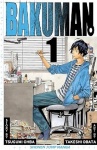 Bakuman Vol. 1 (Manga)
Publisher: VIZ Media
Release Date: August 2010
Price: $9.99
Creator(s): Tsugumi Ohba and Takeshi Obata.
Format: 208 pgs.
ISBN: 978-1-4215-3513-5
Age Rating: Teen+
ICv2 Rating: 4 Stars out of 5
This manga, by the creators of the popular and controversial
Death Note
, once again takes the readers on a journey through a primal part of human existence. This time, though, instead of exploring the dark side of morality and power, they take on the basic concepts of artistic creativity. Stir in a multi-generational love story and a few twists, and it quickly grabs the reader's attention.
Two teen boys, still in middle school, find themselves drawn to the difficult and impractical dream of being manga creators... Akito will write, Moritaka will draw. Moritaka's uncle was a semi-successful manga creator, with one hit and a number of misses. That gives them both a dream to shoot for and a realistic understanding of the difficulty of their goal. To add both pressure and a side story, the girl of Moritaka's dreams wants to become a voice actress, and he and she agree that they won't get involved until she can perform the voice for one of his creations, when it's made into an anime.
What makes this manga special is the convincing portrayal of this pursuit of a dream. Unlike the recent
I'll Give It My All... Tomorrow
, the characters realistically dedicate themselves to developing their skills as they rush toward their dream. They know their weaknesses, and work to overcome them. The drive and pressure are as visible as in any of the sports manga, but the visible results are things like a completed storyboard instead of a winning point. The dramatic tension is still there, but aimed at a more thoughtful reader. Anyone who has ever wanted to be a writer or an artist would enjoy this book.
The story is aimed at teens and up.
--
Nick Smith: Librarian Technician, Community Services, for the Pasadena Public Library in California.