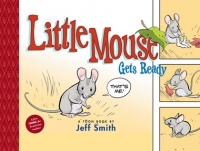 When Francoise Mouly launched Toon Books she had to do it on her own because no major publishing house was interested in her concept of graphic novel/comic stories for kids who are just beginning to learn how to read. Two and one-half years later, after winning numerous awards for its books that are vetted by educators and feature original stories by renown cartoonists and children's book authors, Toon Books has found a partner, Candlewick Press, an employee-owned publisher based in Somerville, Massachusetts that specializes in children's books.
Starting October 1st, Toon Books, which have been distributed by Diamond Book Distributors, will be distributed by Random House, which handles the Candlewick Press titles. The big advantage for Toon Books in this agreement lies in Candlewick's sales and marketing expertise in the children's book market.
Under the terms of its agreement with Candlewick, Toon Books will publish 4-5 titles per year. In the spring of 2011 Toon Books will release Silly Lily in What Will I Be Today by Agnes Rosenstiehl and Patrick in a Teddy Bear's Picnic and Other Stories by Geoffrey Hayes.