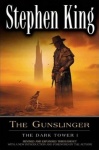 Universal and NBC have unveiled ambitious plans to adapt Stephen King's seven-novel series The Dark Tower into a trilogy of movies that will be bridged by two TV series. Ron Howard (Apollo 13, A Beautiful Mind, The DaVinci Code) is set to direct the first film from a script by Akiva Goldsman (A Beautiful Mind). Howard and Brian Grazer's Imagine Entertainment are behind the project, which certainly gives it some weight.
According to Variety, the first movie will be followed by a Dark Tower TV series that will air on NBC and function as a bridge to the second film. After the second film premieres, a second installment of the TV series will lead-in to the third and final movie in the series. This sort of interactivity between the big screen and the small screen is rare although Fox did use The X-Files Movie in the late 1990s to bridge two seasons of the TV series.
The Sex and the City TV series finished before the producers brought the property to the big screen, and the same is true of the Fox series 24. Now that the 24 series has finished its TV run, a 24 feature film is in production.
Variety reports that King was heavily involved in the discussions that led to the ambitious plan to adapt the seven novel series that began with The Dark Tower: The Gunslinger in 1982 and ended with The Dark Tower VII, which was published in 2004.
Marvel began adapting The Dark Tower novels into comics with The Dark Tower: The Gunslinger Born in 2007—more recent iterations of the Dark Tower comics have featured original content based on characters and situations taken from the novels. The Marvel adaptations should certainly benefit from the exposure that property gets if Universal's ambitious plans come to fruition.