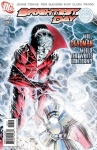 These are estimates of the sales on comic books by Diamond
U.S.
to comic specialty stores during August 2010.

For an overview and analysis of comic sales in August, see "No Comic Over 100K."

For an analysis of the dollar trends in August "Comics and Graphic Novels Plummet in August."


For our estimates of actual sales by Diamond U.S. from comic specialty stores on graphic novels shipped during August, see "Top 300 Graphic Novels Actual--August 2010."


TOP 300 COMICS -- August 2010

Rank

Index

Title

Price

Pub

Est.Qty

1

127.30

BRIGHTEST DAY #7

$2.99

DC

93,459

2

124.70

BRIGHTEST DAY #8

$2.99

DC

91,546

3

118.96

AVENGERS #4

$3.99

MAR

87,333

4

110.82

NEW AVENGERS #3

$3.99

MAR

81,354

5

101.69

SECRET AVENGERS #4

$3.99

MAR

74,655

6

100.33

AMAZING SPIDER-MAN #640

$3.99

MAR

73,656

7

100.00

BATMAN #702

$2.99

DC

73,414

8

97.34

X-MEN #2

$3.99

MAR

71,464

9

94.06

UNCANNY X-MEN #527

$3.99

MAR

69,052

10

93.08

GREEN LANTERN EMERALD WARRIORS #1

$3.99

DC

68,332

11

91.43

GREEN LANTERN CORPS #51

$2.99

DC

67,124

12

91.38

AMAZING SPIDER-MAN #639

$3.99

MAR

67,086

13

82.73

JUSTICE LEAGUE OF AMERICA #48

$3.99

DC

60,733

14

75.62

AVENGERS PRIME #2

$3.99

MAR

55,518

15

73.38

ULTIMATE COMICS AVENGERS 3 #1

$3.99

MAR

53,870

16

72.51

X-MEN LEGACY #239

$2.99

MAR

53,236

17

71.97

CAPTAIN AMERICA #609

$3.99

MAR

52,834

18

69.96

CAPTAIN AMERICA #608

$3.99

MAR

51,362

19

69.57

THOR #613

$3.99

MAR

51,076

20

68.71

ASTONISHING X-MEN #35

$2.99

MAR

50,441

21

68.14

SUPERMAN #702

$2.99

DC

50,023

22

66.76

INVINCIBLE IRON MAN #29

$2.99

MAR

49,012

23

66.61

HULK #24

$3.99

MAR

48,903

24

65.95

JUSTICE SOCIETY OF AMERICA #42

$2.99

DC

48,420

25

64.94

BATMAN ODYSSEY #2

$3.99

DC

47,675

26

63.15

ULTIMATE COMICS AVENGERS 2 #6

$3.99

MAR

46,358

27

63.08

GREEN ARROW #3

$2.99

DC

46,308

28

62.86

BIRDS OF PREY #4

$2.99

DC

46,149

29

61.27

INCREDIBLE HULK #611

$3.99

MAR

44,982

30

60.71

SHADOWLAND #2 SL

$3.99

MAR

44,573

31

56.63

DAREDEVIL #509

$2.99

MAR

41,577

32

56.40

DARK WOLVERINE #89

$2.99

MAR

41,409

33

55.92

SUPERMAN SECRET ORIGIN #6

$3.99

DC

41,051

34

54.86

STEVE ROGERS SUPER-SOLDIER #2

$3.99

MAR

40,278

35

54.45

JUSTICE LEAGUE GENERATION LOST #7

$2.99

DC

39,971

36

54.23

DARK WOLVERINE #90

$2.99

MAR

39,815

37

52.78

JUSTICE LEAGUE GENERATION LOST #8

$2.99

DC

38,745

38

52.69

DETECTIVE COMICS #868

$3.99

DC

38,682

39

52.42

X-FORCE SEX AND VIOLENCE #2

$3.99

MAR

38,480

40

51.92

BUFFY THE VAMPIRE SLAYER RILEY ONE SHOT

$3.50

DAR

38,119

41

51.78

WONDER WOMAN #602

$2.99

DC

38,012

42

50.94

NAMOR FIRST MUTANT #1

$3.99

MAR

37,399

43

50.33

ULTIMATE COMICS SPIDER-MAN #13

$3.99

MAR

36,946

44

49.58

ACTION COMICS #892

$3.99

DC

36,401

45

48.53

AVENGERS ACADEMY #3

$2.99

MAR

35,629

46

48.49

DEADPOOL #26

$2.99

MAR

35,595

47

47.28

RED ROBIN #15

$2.99

DC

34,709

48

47.15

FANTASTIC FOUR #582

$2.99

MAR

34,617

49

46.97

DEADPOOL #1000

$4.99

MAR

34,482

50

46.75

SUPERMAN BATMAN #75

$4.99

DC

34,324

51

46.64

LEGION OF SUPER HEROES #4

$3.99

DC

34,239

52

45.41

SHIELD #3

$2.99

MAR

33,335

53

44.68

TITANS #26

$2.99

DC

32,800

54

43.57

NEW MUTANTS #16

$2.99

MAR

31,989

55

43.25

X-MEN CURSE OF MUTANTS STORM & GAMBIT #1

$3.99

MAR

31,751

56

42.87

BATMAN BEYOND #3

$2.99

DC

31,469

57

42.57

THUNDERBOLTS #147

$2.99

MAR

31,252

58

41.54

THANOS IMPERATIVE #3

$3.99

MAR

30,493

59

40.99

X-FACTOR #208

$2.99

MAR

30,095

60

40.08

WOLVERINE WEAPON X #16

$3.99

MAR

29,424

61

39.46

ADVENTURE COMICS #517

$3.99

DC

28,966

62

38.57

X-MEN CURSE OF MUTANTS BLADE #1

$3.99

MAR

28,318

63

38.41

SHADOWLAND MOON KNIGHT #1 SL

$3.99

MAR

28,196

64

37.34

SECRET WARRIORS #18

$2.99

MAR

27,415

65

37.21

IMAGE UNITED #3

$3.99

IMA

27,314

66

37.11

BATGIRL #13

$2.99

DC

27,247

67

37.05

ZATANNA #4

$2.99

DC

27,203

68

36.71

SHADOWLAND BULLSEYE #1 SL

$3.99

MAR

26,949

69

36.67

TIME MASTERS VANISHING POINT #2

$3.99

DC

26,918

70

36.64

SECRET WARRIORS #19

$2.99

MAR

26,902

71

36.32

MARVEL UNIVERSE VS PUNISHER #1

$3.99

MAR

26,665

72

36.17

WALKING DEAD #76 (MR)

$2.99

IMA

26,553

73

36.11

ULTIMATE COMICS MYSTERY #2

$3.99

MAR

26,507

74

35.99

TRUE BLOOD #2

$3.99

IDW

26,419

75

35.27

SUPERGIRL #55

$2.99

DC

25,891

76

34.99

DC UNIVERSE LEGACIES #4

$3.99

DC

25,691

77

34.40

THOR RAGE OF THOR #1

$3.99

MAR

25,257

78

34.12

SUPERMAN THE LAST FAMILY OF KRYPTON #1

$4.99

DC

25,046

79

34.01

TEEN TITANS #86

$3.99

DC

24,971

80

33.78

DOOMWAR #6

$3.99

MAR

24,797

81

33.65

RED HOOD LOST DAYS #3

$2.99

DC

24,701

82

33.49

GOTHAM CITY SIRENS #15

$2.99

DC

24,589

83

33.29

AVENGERS & INFINITY GAUNTLET #1

$2.99

MAR

24,438

84

33.01

MARVEL UNIVERSE VS PUNISHER #2

$3.99

MAR

24,233

85

32.92

BATMAN STREETS OF GOTHAM #15

$3.99

DC

24,171

86

32.22

DUNGEONS AND DRAGONS #0

$1.00

IDW

23,657

87

32.12

DEADPOOL WADE WILSONS WAR #3

$3.99

MAR

23,580

88

31.18

DEADPOOL CORPS #5

$2.99

MAR

22,887

89

30.44

JSA ALL STARS #9

$3.99

DC

22,347

90

30.12

SHADOWLAND BLOOD ON STREETS #1 SL

$3.99

MAR

22,110

91

29.72

DARK TOWER GUNSLINGER JOURNEY BEGINS #4

$3.99

MAR

21,820

92

28.98

DEADPOOL TEAM-UP #890

$2.99

MAR

21,279

93

28.89

SHADOWLAND POWER MAN #1 SL

$3.99

MAR

21,206

94

28.85

SECRET SIX #24

$2.99

DC

21,177

95

28.66

BOYS #45 (MR)

$3.99

DE

21,041

96

28.15

STAR WARS LEGACY #50 EXTREMES PART 3

$2.99

DAR

20,666

97

27.34

PUNISHER MAX HAPPY ENDING #1 (MR)

$3.99

MAR

20,074

98

26.73

FABLES #97 (MR)

$2.99

DC

19,625

99

26.58

SHADOWLAND DAUGHTERS OF SHADOW #1 SL

$3.99

MAR

19,513

100

26.16

AGE OF HEROES #4

$3.99

MAR

19,206

101

26.02

BOOSTER GOLD #35

$2.99

DC

19,104

102

26.00

POWER GIRL #15

$2.99

DC

19,091

103

25.98

HELLBOY THE STORM #2

$2.99

DAR

19,070

104

25.38

BOYS HIGHLAND LADDIE #1 (MR)

$3.99

DE

18,629

105

25.00

STAND HARDCASES #3

$3.99

MAR

18,352

106

24.34

HAWKEYE & MOCKINGBIRD #3

$2.99

MAR

17,870

107

24.21

IRON MAN LEGACY #5

$2.99

MAR

17,773

108

24.15

MAGNUS ROBOT FIGHTER #1

$3.50

DAR

17,729

109

23.93

BLACK WIDOW #5

$2.99

MAR

17,568

110

23.73

CAPTAIN AMERICA FOREVER ALLIES #1

$3.99

MAR

17,418

111

23.68

STAR WARS OLD REPUBLIC #2

$2.99

DAR

17,384

112

23.34

HEROIC AGE PRINCE OF POWER #4

$3.99

MAR

17,137

113

22.86

NEW MUTANTS FOREVER #1

$3.99

MAR

16,784

114

21.82

ANGEL #36

$3.99

IDW

16,016

115

21.64

SPIDER-GIRL END #1

$3.99

MAR

15,888

116

21.51

AVENGERS ORIGIN #5

$3.99

MAR

15,793

117

21.48

IZOMBIE #4 (MR)

$2.99

DC

15,772

118

21.46

OUTSIDERS #32

$2.99

DC

15,754

119

21.43

INVINCIBLE #74 (MR)

$2.99

IMA

15,735

120

21.20

WEB OF SPIDER-MAN #11

$3.99

MAR

15,562

121

20.45

GUARDING THE GLOBE #1

$3.50

IMA

15,013

122

19.53

BATMAN CONFIDENTIAL #47

$2.99

DC

14,341

123

19.43

GI JOE A REAL AMERICAN HERO #157

$3.99

IDW

14,263

124

19.27

EX MACHINA #50

$4.99

DC

14,146

125

19.09

YOUNG ALLIES #3

$2.99

MAR

14,016

126

18.57

X-MEN FOREVER 2 #5

$3.99

MAR

13,632

127

18.47

BPRD HELL ON EARTH NEW WORLD #1

$3.50

DAR

13,563

128

18.19

X-MEN FOREVER 2 #6

$3.99

MAR

13,351

129

18.16

SPIDER-MAN FANTASTIC FOUR #2

$3.99

MAR

13,329

130

17.99

ATLAS #4

$2.99

MAR

13,205

131

17.88

AMAZING SPIDER-MAN PRESENTS AMERICAN SON #4

$3.99

MAR

13,128

132

17.88

DOC SAVAGE #5

$3.99

DC

13,125

133

17.86

DAREDEVIL BLACK AND WHITE #1

$3.99

MAR

13,111

134

17.55

LAST PHANTOM #1

$3.99

DE

12,887

135

17.41

UNWRITTEN #16 (MR)

$2.99

DC

12,778

136

17.38

CHEW #13 (MR)

$2.99

IMA

12,756

137

16.71

GI JOE #21

$3.99

IDW

12,264

138

16.50

THOR MIGHTY AVENGER #3

$2.99

MAR

12,112

139

16.49

IRREDEEMABLE #16

$3.99

BOO

12,106

140

16.48

BALTIMORE PLAGUE SHIPS #1

$3.50

DAR

12,099

141

16.28

TRANSFORMERS ONGOING #10

$3.99

IDW

11,951

142

16.09

SPECTACULAR SPIDER-GIRL #4

$3.99

MAR

11,810

143

16.04

JONAH HEX #58

$2.99

DC

11,775

144

15.21

X-FILES 30 DAYS OF NIGHT #2 (MR)

$3.99

DC

11,163

145

15.17

SUPERGOD #4 (MR)

$3.99

AVA

11,134

146

15.02

HERCULES TWILIGHT OF A GOD #3

$3.99

MAR

11,029

147

15.00

SPIRIT #5

$3.99

DC

11,015

148

14.82

DOOM PATROL #13

$2.99

DC

10,878

149

14.78

REBELS #19

$2.99

DC

10,851

150

14.57

WITCHBLADE #137

$2.99

IMA

10,696

151

14.05

CROSSED FAMILY VALUES #3 (MR)

$3.99

AVA

10,317

152

13.72

GI JOE ORIGINS #18

$3.99

IDW

10,074

153

13.52

HELLBLAZER #270 (MR)

$2.99

DC

9,928

154

13.52

SPITFIRE #1

$3.99

MAR

9,926

155

13.51

HIT-MONKEY #2

$2.99

MAR

9,916

156

13.31

PROJECT SUPERPOWERS CHAPTER TWO #11

$2.99

DE

9,772

157

13.31

STAR WARS BLOOD TIES TALE JANGO & BOBA FETT #1

$3.50

DAR

9,769

158

12.84

LOCKE & KEY KEYS TO THE KINGDOM #1

$3.99

IDW

9,429

159

12.79

GI JOE COBRA II #7

$3.99

IDW

9,387

160

12.70

MARVELMAN FAMILYS FINEST #2

$3.99

MAR

9,324

161

12.66

1 FOR DOLLAR HELLBOY SEED OF DESTRUCTION

$1.00

DAR

9,291

162

12.59

SWEET TOOTH #12 (MR)

$2.99

DC

9,246

163

12.28

1 FOR DOLLAR SIN CITY HARD GOODBYE (MR)

$1.00

DAR

9,012

164

12.16

AZRAEL #11

$2.99

DC

8,930

165

12.06

X-CAMPUS #3

$4.99

MAR

8,855

166

11.84

KATO ORIGINS WAY O/T NINJA #3

$3.99

DE

8,689

167

11.83

MORNING GLORIES #1

$3.99

IMA

8,687

168

11.74

DAYTRIPPER #9 (MR)

$2.99

DC

8,617

169

11.53

CAPTAIN AMERICA 1940S NEWSPAPER STRIP #3

$3.99

MAR

8,461

170

11.41

GREEN HORNET PARALLEL LIVES #2

$3.99

DE

8,377

171

11.37

CASANOVA #2 (MR)

$3.99

MAR

8,349

172

11.30

COMIC BOOK GUY THE COMIC BOOK #2

$2.99

BON

8,294

173

11.24

WITCHBLADE DUE PROCESS (ONE SHOT)

$3.99

IMA

8,255

174

11.22

HOUSE OF MYSTERY #28 (MR)

$2.99

DC

8,238

175

11.19

1 FOR DOLLAR GOON

$1.00

DAR

8,213

176

10.91

TRANSFORMERS IRONHIDE #4

$3.99

IDW

8,013

177

10.88

TINY TITANS #31

$2.99

DC

7,987

178

10.86

SONIC THE HEDGEHOG #216

$2.99

ARC

7,976

179

10.74

HACK SLASH MY FIRST MANIAC #3 (MR)

$3.50

IMA

7,881

180

10.58

TRUE BLOOD #1

$3.99

IDW

7,766

181

10.55

GORILLA MAN #2

$3.99

MAR

7,744

182

10.43

MADAME XANADU #26 (MR)

$2.99

DC

7,656

183

10.38

TFW RED ROSE ONESHOT

$3.99

ZEN

7,624

184

10.35

1 FOR DOLLAR CONAN

$1.00

DAR

7,602

185

10.35

BUZZARD #3

$3.50

DAR

7,595

186

10.20

1 FOR DOLLAR ALIENS VS PREDATOR

$1.00

DAR

7,485

187

10.07

SIMPSONS COMICS #169

$2.99

BON

7,396

188

10.05

LONE RANGER #23

$3.50

DE

7,381

189

10.05

NORTHLANDERS #31 (MR)

$2.99

DC

7,376

190

9.76

GFT INFERNO #2

$2.99

ZEN

7,164

191

9.69

JURASSIC PARK REDEMPTION #2

$3.99

IDW

7,113

192

9.54

BLACK TERROR #11

$3.50

DE

7,003

193

9.52

TOM STRONG AND THE ROBOTS OF DOOM #3

$3.99

DC

6,989

194

9.34

AUTHORITY #25

$2.99

DC

6,860

195

9.28

SONIC UNIVERSE #19

$2.99

ARC

6,814

196

9.20

MIGHTY CRUSADERS #2

$3.99

DC

6,751

197

9.15

DARKSTAR AND WINTER GUARD #3

$3.99

MAR

6,716

198

9.13

TRANSFORMERS NEFARIOUS #6

$3.99

IDW

6,700

199

9.02

RAWHIDE KID #3

$3.99

MAR

6,623

200

8.98

SCALPED #40 (MR)

$2.99

DC

6,593

201

8.89

DMZ #56 (MR)

$2.99

DC

6,524

202

8.86

FRINGE TALES FROM THE FRINGE #2

$3.99

DC

6,506

203

8.85

NANCY IN HELL #1 (MR)

$2.99

IMA

6,497

204

8.85

SONIC THE HEDGEHOG #215

$2.99

ARC

6,494

205

8.84

DOCTOR WHO ONGOING #14

$3.99

IDW

6,492

206

8.78

DARKNESS FOUR HORSEMEN #1

$3.99

IMA

6,447

207

8.77

SCIENCE DOG SPECIAL #1

$3.50

IMA

6,436

208

8.66

DARKWING DUCK #3

$3.99

BOO

6,355

209

8.56

IMAGE FIRSTS INVINCIBLE #1 (MR)

$1.00

IMA

6,285

210

8.51

BATMAN THE BRAVE AND THE BOLD #20

$2.99

DC

6,244

211

8.49

GARTH ENNIS BATTLEFIELDS #9 (MR)

$3.50

DE

6,233

212

8.46

PHOENIX WITHOUT ASHES #1

$3.99

IDW

6,208

213

8.45

MAGOG #12

$2.99

DC

6,202

214

8.45

SPIDER-MAN #5

$2.99

MAR

6,202

215

8.44

1 FOR DOLLAR USAGI YOJIMBO

$1.00

DAR

6,194

216

8.36

DRACULA COMPANY OF MONSTERS #1

$3.99

BOO

6,140

217

8.30

SKY DOLL LACRIMA CHRISTI #1 (MR)

$5.99

MAR

6,097

218

8.22

ASTOUNDING WOLF-MAN #24

$2.99

IMA

6,036

219

8.20

AUTHORITY THE LOST YEAR #12

$2.99

DC

6,021

220

8.13

SOULFIRE VOL TWO #7

$2.99

ASP

5,969

221

8.12

GEARS OF WAR #13 (MR)

$3.99

DC

5,962

222

8.11

BART SIMPSON COMICS #55

$2.99

BON

5,956

223

8.07

FRINGE TALES FROM THE FRINGE #3

$3.99

DC

5,928

224

7.84

DO ANDROIDS DREAM OF ELECTRIC SHEEP #13

$3.99

BOO

5,754

225

7.75

SALEMS DAUGHTER #5

$2.99

ZEN

5,687

226

7.64

WILDCATS #26

$2.99

DC

5,607

227

7.63

ROBERT JORDAN WHEEL OF TIME EYE O/T WORLD #4

$3.99

DE

5,605

228

7.63

STAR TREK BURDEN OF KNOWLEDGE #3

$3.99

IDW

5,604

229

7.63

DV8 GODS AND MONSTERS #5

$2.99

DC

5,598

230

7.51

GRAVEL #20 (MR)

$3.99

AVA

5,516

231

7.42

SAVAGE DRAGON #163

$3.50

IMA

5,447

232

7.31

ZOMBIES VS CHEERLEADERS GEEKTACULAR

$3.99

MOO

5,363

233

7.30

SUPER HERO SQUAD #8

$2.99

MAR

5,358

234

7.28

ORSON SCOTT CARDS ENDER IN EXILE #3

$3.99

MAR

5,342

235

7.26

LOCKE & KEY WELCOME TO LOVECRAFT #1 LEGACY ED

$1.00

IDW

5,330

236

7.02

GREEK STREET #14 (MR)

$2.99

DC

5,153

237

6.93

UNKNOWN SOLDIER #23 (MR)

$2.99

DC

5,090

238

6.76

OFF HANDBOOK MARVEL UNIVERSE A TO Z UPDATE #3

$3.99

MAR

4,962

239

6.73

MURDERLAND #1 (MR)

$2.99

IMA

4,941

240

6.64

ROBOCOP #6 (MR)

$3.50

DE

4,874

241

6.51

WELCOME TO TRANQUILITY ONE FOOT GRAVE #2

$3.99

DC

4,776

242

6.48

GEN 13 #37

$2.99

DC

4,757

243

6.46

FARSCAPE ONGOING #10

$3.99

BOO

4,739

244

6.44

WOLFSKIN HUNDREDTH DREAM #4 (MR)

$3.99

AVA

4,728

245

6.43

AIR #24 (MR)

$2.99

DC

4,719

246

6.29

SHADOWLAND #1 OLIVER VAR

$3.99

MAR

4,618

247

6.21

IDES OF BLOOD #1

$3.99

DC

4,560

248

6.17

LA BANKS VAMPIRE HUNTRESS #1 THE HIDDEN DARKNESS

$3.99

DE

4,533

249

6.17

ARCHIE #612

$2.99

ARC

4,530

250

6.16

DEATH OF DRACULA #1

$3.99

MAR

4,523

251

6.12

STEVE ROGERS SUPER-SOLDIER #1

$3.99

MAR

4,495

252

6.11

TERRY MOORES ECHO #24

$3.50

ABS

4,486

253

6.08

DRAGON AGE #3

$3.99

IDW

4,467

254

6.03

ELECTRIC ANT #5 (MR)

$3.99

MAR

4,428

255

6.02

SUPER HEROES #5

$2.99

MAR

4,418

256

6.01

WALKING DEAD #75 (MR)

$3.99

IMA

4,412

257

5.78

INCREDIBLES #12

$2.99

BOO

4,240

258

5.67

FEVRE DREAM #5 (MR)

$3.99

AVA

4,166

259

5.62