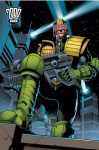 IM Global has managed to grab $30 million in "pre-sale," pre-production commitments from a number of foreign markets for its Dredd movie, which Pete Travis is set to begin shooting in South Africa in November (see "Olivia Thirlby Joins 'Dredd' Cast"). The $45 million production is based on the 2000 AD Judge Dredd comic, and key Judge Dredd creator John Wagner is heavily involved in the production of the film, which stars Karl Urban ("Bones" in the recent Star Trek movie), and which is going for the gritty, yet satiric tone of the original comics.
According to Variety, in just five days IM Global was able to gather its $30 million in commitments by selling the picture in a number of territories including Germany, Spain, Australia, Canada, Russia, Latin America, Benelux, and Scandinavia. A deal for the U.S. is expected soon, and a number of other major markets in Asia remain untapped.
Given the poor box office performance of the 1990s Sly Stallone Judge Dredd film, the pre-production guarantees may appear a bit puzzling, but the new Dredd movie is being shot in 3-D, which remains popular, and it is being produced in South Africa by many of the same folks who made District 9, which was produced in 2009 for $30 million, but which looked (and earned) like it cost a lot more.