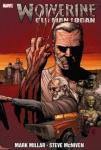 These are estimates of the sales on graphic novels by Diamond U.S. to comic specialty stores during September 2010.
For an overview and analysis of comic sales in September, see "
'
Wolverine' Tops September Charts
."
For an analysis of the dollar trends in September, see "
It's Official: Q3 Comic Sales Sucked
."
For our estimates of actual sales by Diamond
U.S.
from comic specialty stores on comic books shipped during September, see "
Top 300 Comics Actual--September 2010
."
Top 300 GNs -- September 2010

Rank

Index

Title

Price

Pub

Est.Qty

1

8.85

WOLVERINE OLD MAN LOGAN TP

$29.99

MAR

6,820

2

8.54

DR HORRIBLE TP

$9.99

DAR

6,582

3

7.75

INVINCIBLE TP VOL 13 GROWING PAINS

$16.99

IMA

5,968

4

7.35

AMAZING SCREW ON HEAD & OTHER CURIOUS OBJECTS HC

$17.99

DAR

5,660

5

6.86

SCOTT PILGRIM GN VOL 01 PRECIOUS LITTLE LIFE

$11.99

ONI

5,285

6

6.68

WALKING DEAD TP VOL 01 DAYS GONE BYE

$9.99

IMA

5,142

7

5.55

EMPOWERED TP VOL 06 (MR)

$15.99

DAR

4,276

8

4.90

WALKING DEAD TP VOL 12 LIFE AMONG THEM

$14.99

IMA

3,771

9

4.82

AMERICAN VAMPIRE HC VOL 01 (MR)

$24.99

DC

3,712

10

4.62

STAR WARS CLONE WARS YR TP HERO OF CONFEDERACY

$7.99

DAR

3,562

11

4.56

SCOTT PILGRIM GN VOL 02 VS THE WORLD

$11.99

ONI

3,513

12

4.51

CAPTAIN AMERICA REBORN TP

$19.99

MAR

3,472

13

4.46

X-MEN SECOND COMING HC

$39.99

MAR

3,439

14

4.45

WALKING DEAD TP VOL 02 MILES BEHIND US (NEW

$14.99

IMA

3,431

15

4.43

WORLDS GREATEST SUPER HEROES TP

$29.99

DC

3,416

16

4.24

STAR WARS FORCE UNLEASHED GN VOL 02

$11.99

DAR

3,268

17

4.19

BATMAN CACOPHONY TP

$14.99

DC

3,228

18

3.88

OZ MARVELOUS LAND OF OZ HC

$29.99

MAR

2,986

19

3.79

BERSERK TP VOL 34

$14.99

DAR

2,922

20

3.74

WALKING DEAD COMPENDIUM TP VOL 01 (MR)

$59.99

IMA

2,878

21

3.70

BLEACH TP VOL 32

$9.99

VIZ

2,854

22

3.41

OZ WONDERFUL WIZARD OF OZ TP GN

$19.99

MAR

2,623

23

3.40

SCOTT PILGRIM GN VOL 03 INFINITE SADNESS

$11.99

ONI

2,616

24

3.32

WALKING DEAD TP VOL 03 SAFETY BEHIND BARS

$14.99

IMA

2,555

25

3.25

INCORRUPTIBLE TP VOL 02 (MR)

$16.99

BOO

2,501

26

3.17

TRANSMETROPOLITAN TP VOL 08 DIRGE (MR)

$14.99

DC

2,440

27

3.11

RED TP NEW EDITION

$14.99

DC

2,397

28

3.08

WALKING DEAD TP VOL 11 FEAR THE HUNTERS (MR)

$14.99

IMA

2,371

29

3.01

SCOTT PILGRIM GN VOL 06 FINEST HOUR

$11.99

ONI

2,315

30

3.00

LEGEND OF ZELDA GN VOL 10 PHANTOM HOURGLASS

$7.99

VIZ

2,309

31

2.96

WALKING DEAD TP VOL 04 HEARTS DESIRE (NEW PTG)

$14.99

IMA

2,281

32

2.94

SCOTT PILGRIM GN VOL 04 GETS IT TOGETHER

$11.99

ONI

2,267

33

2.91

LOVE AND ROCKETS NEW STORIES TP VOL 03

$14.99

FAN

2,245

34

2.91

RED ROBIN COLLISION TP

$19.99

DC

2,243

35

2.89

STAR WARS DARK EMPIRE TRILOGY HC

$29.99

DAR

2,230

36

2.79

TINY TITANS TP VOL 04 THE FIRST RULE OF PET CLUB

$12.99

DC

2,148

37

2.76

MARVEL ZOMBIES RETURN TP

$19.99

MAR

2,126

38

2.75

WALKING DEAD TP VOL 05 BEST DEFENSE (NEW PTG)

$14.99

IMA

2,119

39

2.68

SUPERMAN NEW KRYPTON TP VOL 02

$17.99

DC

2,061

40

2.67

WALKING DEAD TP VOL 09 HERE WE REMAIN (MR)

$14.99

IMA

2,059

41

2.65

SIEGE DARK AVENGERS PREM HC

$24.99

MAR

2,040

42

2.64

SANDMAN THE DREAM HUNTERS TP (MR)

$19.99

DC

2,033

43

2.58

SIEGE NEW AVENGERS PREM HC

$29.99

MAR

1,988

44

2.57

DARK X-MEN TP

$16.99

MAR

1,981

45

2.56

SCOTT PILGRIM GN VOL 05 VS THE UNIVERSE

$11.99

ONI

1,969

46

2.54

WALKING DEAD TP VOL 10 WHAT WE BECOME

$14.99

IMA

1,957

47

2.47

WALKING DEAD TP VOL 06 SORROWFUL LIFE (NEW PTG) (SEP088207)

$14.99

IMA

1,903

48

2.46

SHOWCASE PRESENTS LEGION OF SUPER-HEROES TP VOL 04

$19.99

DC

1,894

49

2.42

WALKING DEAD TP VOL 07 THE CALM BEFORE (MR)

$12.99

IMA

1,866

50

2.37

WALKING DEAD TP VOL 08 MADE TO SUFFER (MR)

$14.99

IMA

1,823

51

2.28

CLASSIC GI JOE TP VOL 09

$24.99

IDW

1,759

52

2.28

GANTZ TP VOL 12 (MR)

$12.99

DAR

1,753

53

2.26

SPIDER-MAN GAUNTLET TP VOL 02 RHINO & MYSTERIO

$14.99

MAR

1,744

54

2.26

INVINCIBLE IRON MAN PREM HC VOL 05 RESILIENT BK 01

$19.99

MAR

1,741

55

2.26

HALO UPRISING TP (MR)

$19.99

MAR

1,738

56

2.25

SPIDER-MAN COMPLETE CLONE SAGA EPIC TP BOOK 03

$34.99

MAR

1,736

57

2.25

JSA BLACK ADAM AND ISIS TP

$14.99

DC

1,733

58

2.23

JUSTICE LEAGUE OF AMERICA TEAM HISTORY HC

$19.99

DC

1,717

59

2.22

DAVE MCKEAN CAGES TP

$29.99

DAR

1,713

60

2.22

ATOMIC ROBO TP VOL 04 OTHER STRANGENESS

$17.95

RED

1,713

61

2.21

CUBA MY REVOLUTION HC (MR)

$24.99

DC

1,706

62

2.20

DEADPOOL MERC WITH A MOUTH HC HEAD TRIP

$39.99

MAR

1,695

63

2.20

CONAN NEWSPAPER STRIPS HC VOL 01

$34.99

DAR

1,693

64

2.13

WITCHBLADE TP VOL 08

$14.99

IMA

1,644

65

2.10

SMURFS GN VOL 01 THE PURPLE SMURF

$5.99

NBM

1,616

66

2.09

ULTIMATE COMICS IRON MAN ARMOR WARS TP

$14.99

MAR

1,612

67

2.09

NGE CAMPUS APOCALYSE TP VOL 01

$10.99

DAR

1,611

68

2.08

FLASH CHRONICLES TP VOL 02

$14.99

DC

1,604

69

2.04

SUPERNATURAL BEGINNINGS END TP

$14.99

DC

1,573

70

2.03

HARVEY COMICS CLASSICS TREASURY TP VOL 01 CASPER

$14.99

DAR

1,564

71

2.03

SIEGE MIGHTY AVENGERS PREM HC

$19.99

MAR

1,564

72

2.03

OH MY GODDESS RTL TP VOL 36

$10.99

DAR

1,563

73

2.02

BEYOND WONDERLAND TP

$17.99

ZEN

1,556

74

2.01

NEW MUTANTS TP VOL 02 NECROSHA

$16.99

MAR

1,546

75

1.99

LOBO HIGHWAY TO HELL TP

$19.99

DC

1,535

76

1.93

SMURFS GN VOL 02 THE MAGIC FLUTE

$5.99

NBM

1,486

77

1.93

CHRONICLES OF KULL TP VOL 03 SCREAMS IN DARK

$18.99

DAR

1,484

78

1.91

BLACKEST NIGHT HC

$29.99

DC

1,470

79

1.90

SUPERGIRL DEATH AND THE FAMILY TP

$17.99

DC

1,467

80

1.88

DEADPOOL & CABLE ULTIMATE COLLECTION TP BOOK 03

$39.99

MAR

1,449

81

1.86

BATMAN DARK KNIGHT RETURNS TP

$14.99

DC

1,430

82

1.82

SPIDER-MAN GAUNTLET PREM HC VOL 05 LIZARD

$19.99

MAR

1,403

83

1.81

HACK SLASH OMNIBUS TP VOL 02 (IMAGE ED) (MR)

$29.99

IMA

1,391

84

1.77

AMULET SC VOL 03 CLOUD SEARCHERS

$10.99

SCH

1,363

85

1.75

TORCH TP

$19.99

MAR

1,351

86

1.75

I AM LEGION DLX HC

$29.95

HUM

1,347

87

1.67

AVENGERS UNDER SIEGE PREM HC

$29.99

MAR

1,286

88

1.67

WARCRAFT SHAMAN GN

$12.99

TOK

1,283

89

1.66

CHIBI VAMPIRE AIRMAIL VOL 01 (MR)

$10.99

TOK

1,275

90

1.64

MODERN WARFARE 2 GHOST TP

$17.99

DC

1,266

91

1.64

SUPERMAN MON EL HC VOL 02 MAN OF VALOR

$24.99

DC

1,263

92

1.62

WOLVERINE RECKONING PREM HC

$24.99

MAR

1,247

93

1.61

CREEPY ARCHIVES HC VOL 07

$49.99

DAR

1,239

94

1.60

KUROSAGI CORPSE DELIVERY SERVICE TP VOL 11 (MR)

$11.99

DAR

1,230

95

1.59

MEGA MAN MEGAMIX GN VOL 02

$12.95

UDO

1,221

96

1.58

DAREDEVIL BY BENDIS & MALEEV TP ULT COLL BOOK 02

$34.99

MAR

1,219

97

1.58

SPAWN ORIGINS TP VOL 07

$14.99

IMA

1,218

98

1.58

EERIE ARCHIVES HC VOL 04

$49.99

DAR

1,215

99

1.57

SPIDER-MAN FEVER TP

$14.99

MAR

1,213

100

1.56

DOCTOR SOLAR MAN OF ATOM TP VOL 01

$19.99

DAR

1,204

101

1.56

INU YASHA TP VOL 52

$9.99

VIZ

1,201

102

1.55

KEVIN SMITH GREEN HORNET HC VOL 01 SINS OF THE FATHER

$24.99

DE

1,194

103

1.54

TRANSFORMERS LAST STAND OF THE WRECKERS TP

$19.99

IDW

1,187

104

1.54

KICK ASS PREM HC (MR)

$24.99

MAR

1,185

105

1.54

DAWN TP VOL 03 THREE TIERS

$16.99

IMA

1,184

106

1.53

IRON MAN EXTREMIS GN HC W/ MOTION COMIC DVD

$24.99

MAR

1,180

107

1.52

HETALIA AXIS POWERS GN VOL 01 (MR)

$10.99

TOK

1,171

108

1.52

SUPER HERO SQUAD TP VOL 03 SQUAD UP DIGEST

$9.99

MAR

1,169

109

1.50

28 DAYS LATER TP VOL 01 LONDON CALLING

$9.99

BOO

1,159

110

1.48

TOMB OF DRACULA TP VOL 02

$24.99

MAR

1,143

111

1.43

TANK GIRL ROYAL ESCAPE TP VOL 01

$17.99

IDW

1,104

112

1.42

FABLES TP VOL 01 LEGENDS IN EXILE

$9.99

DC

1,091

113

1.42

RUNAWAYS LIVE FAST TP

$16.99

MAR

1,091

114

1.40

OH MY GODDESS RTL TP VOL 15

$10.99

DAR

1,081

115

1.40

Y THE LAST MAN TP VOL 01 UNMANNED

$12.99

DC

1,076

116

1.40

CIVIL WAR AVENGERS HC

$39.99

MAR

1,075

117

1.37

INCREDIBLE HERCULES TP ASSAULT ON NEW OLYMPUS

$14.99

MAR

1,054

118

1.33

PRIDE AND PREJUDICE GN TP

$14.99

MAR

1,028

119

1.33

MMW FANTASTIC FOUR TP VOL 04

$24.99

MAR

1,022

120

1.31

TRANSFORMERS BEST OF MEGATRON TP

$19.99

IDW

1,007

121

1.30

CHEW TP VOL 01 (MR)

$9.99

IMA

1,001

122

1.27

MARVEL ADVENTURES SPIDER-MAN TP AMAZING DIGEST

$9.99

MAR

975

123

1.25

MEGA MAN ZX GN VOL 02

$12.95

UDO

965

124

1.25

NEW AVENGERS LUKE CAGE TP TOWN WITHOUT PITY

$14.99

MAR

960

125

1.22

WILDCATS VERSION 3.0 YEAR ONE TP

$24.99

DC

941

126

1.22

NEGIMA NEO GN VOL 06 (MR)

$10.99

RAN

939

127

1.22

BATMAN HUSH COMPLETE TP

$24.99

DC

938

128

1.22

BATMAN THE LONG HALLOWEEN TP

$19.99

DC

938

129

1.21

SIMON & KIRBY SUPERHEROES HC

$49.95

TIT

933

130

1.20

MARVEL ADVENTURES AVENGERS TP IRON MAN DIGEST

$9.99

MAR

928

131

1.20

PUNISHER NOIR GN TP

$14.99

MAR

927

132

1.19

STAR WARS LONG TIME AGO OMNIBUS TP VOL 02

$24.99

DAR

916

133

1.17

UNKNOWN TP VOL 01

$9.99

BOO

900

134

1.16

GHOST TALKERS DAYDREAM TP VOL 04 (MR)

$10.99

DAR

894

135

1.16

WATCHMEN TP

$19.99

DC

891

136

1.15

UNWRITTEN TP VOL 01 TOMMY TAYLOR BOGUS IDENTITY TP (MR)

$9.99

DC

889

137

1.15

X-9 SECRET AGENT CORRIGAN HC VOL 01

$49.99

IDW

887

138

1.15

DE TALES HC

$19.99

DAR

886

139

1.14

CHEW TP VOL 02 INTERNATIONAL FLAVOR (MR)

$12.99

IMA

877

140

1.14

ULTIMATE X-MEN ULTIMATE COLLECTION TP VOL 04

$29.99

MAR

877

141

1.14

HATTER M THE LOOKING GLASS WARS HC VOL 03

$24.99

AUT

876

142

1.13

IRON MAN 2 TP PUBLIC IDENTITY

$14.99

MAR

872

143

1.13

ART OF NEAL ADAMS HC PX DLX SGN SLIPCASED ED

$59.95

VAN

869

144

1.12

RICHARD STARKS PARKER THE HUNTER HC

$24.99

IDW

862

145

1.10

UNWRITTEN TP VOL 02 INSIDE MAN (MR)

$12.99

DC

851

146

1.10

FATE STAY NIGHT GN VOL 09

$10.99

TOK

851

147

1.10

NAM TP VOL 02

$29.99

MAR

845

148

1.09

FOUR COLOR FEAR FORGOTTEN HORROR COMICS OF THE 1950S TP

$29.99

FAN

842

149

1.08

ANGEL BARBARY COAST TP VOL 01

$14.99

IDW

834

150

1.06

ARCHIE MARRIES 70 YEARS IN MAKING SLIPCASE HC

$24.95

ABR

820

151

1.06

SANDMAN TP VOL 01 PRELUDES & NOCTURNES

$19.99

DC

816

152

1.05

WALKING DEAD HC VOL 01 (MR)

$34.99

IMA

809

153

1.05

ABSOLUTE PROMETHEA HC VOL 02

$99.99

DC

805

154

1.04

DAREDEVIL ECHO PREM HC VISION QUEST

$19.99

MAR

802

155

1.03

ART OF NEAL ADAMS HC

$39.95

VAN

797

156

1.03

DAWN TP VOL 02 RETURN O/T GODDESS (NEW PTG)

$16.99

IMA

790

157

1.02

FARSCAPE TP VOL 01 BEGINNING O/T END O/T BEGINNING

$9.99

BOO

789

158

1.02

BATMAN YEAR ONE DELUXE SC

$14.99

DC

787

159

1.01

ZOMBIES VS ROBOTS AVENTURE HC

$24.99

IDW

777

160

1.01

QUEEN SONJA TP VOL 01

$19.99

DE

776

161

1.01

FRANKLIN RICHARDS TP SON OF GENIUS ULT COLL BOOK 01

$19.99

MAR

776

162

1.00

SIEGE PREM HC

$24.99

MAR

772

163

1.00

ALICE I/T COUNTRY OF HEARTS GN VOL 04 (MR)

$10.99

TOK

771

164

0.99

CINDERELLA FROM FABLETOWN WITH LOVE TP (MR)

$14.99

DC

760

165

0.98

CROSSED TP VOL 01 (MR)

$24.99

AVA

754

166

0.98

SHAMAN KING TP VOL 30

$9.99

VIZ

752

167

0.97

NINJA BASEBALL KYUMA GN VOL 03

$7.99

UDO

748

168

0.95

FRAGGLE ROCK HC VOL 01

$19.95

ARA

733

169

0.95

THOR BY J MICHAEL STRACZYNSKI TP VOL 01

$14.99

MAR

730

170

0.95

IRON MAN NOIR PREM HC

$19.99

MAR

728

171

0.94

V FOR VENDETTA NEW EDITION TP (MR)

$19.99

DC

721

172

0.94

RED SONJA WRATH OF THE GODS TP VOL 01

$19.99

DE

721

173

0.93

AX TP VOL 01 COLLECTION OF ALTERNATIVE MANGA

$29.95

TOP

720

174

0.93

PREACHER TP VOL 01 GONE TO TEXAS NEW EDITION (MR)

$14.99

DC

719

175

0.93

Y THE LAST MAN TP VOL 02 CYCLES (MR)

$12.99

DC

717

176

0.93

FABLES TP VOL 02 ANIMAL FARM

$12.99

DC

714

177

0.93

WALKING DEAD HC VOL 02 (MR)

$29.99

IMA

713

178

0.93

DEADPOOL TP VOL 01 SECRET INVASION

$14.99

MAR

713

179

0.92

PET SHOP OF HORRORS TOKYO GN VOL 07 (MR)

$10.99

TOK

708

180

0.92

HAUNT TP VOL 01

$9.99

IMA

706

181

0.92

BATMAN THE KILLING JOKE SPECIAL ED HC

$17.99

DC

705

182

0.91

BATMAN RIP TP

$14.99

DC

700

183

0.90

PRISON PIT GN BOOK 02 (MR)

$12.99

FAN

695

184

0.90

GHOST IN SHELL KODANSHA ED GN VOL 02 (MR)

$26.99

RAN

694

185

0.90

DARK SHADOWS COMP SERIES HC VOL 01

$49.99

HER

692

186

0.90

AVENGERS INVADERS HC

$39.99

MAR

690

187

0.89

BATMAN DARK VICTORY TP

$19.99

DC

689

188

0.89

GURREN LAGANN GN VOL 05

$10.99

BAN

688

189

0.89

BIG ADVENTURES OF MAJOKO GN VOL 04

$7.99

UDO

688

190

0.89

FINAL CRISIS TP

$19.99

DC

687

191

0.89

RIN-NE GN VOL 04

$9.99

VIZ

687

192

0.89

ANNE FRANK HOUSE AUTHORIZED GRAPHIC BIO SC

$16.95

ST.

685

193

0.87

DOGS TP VOL 04 (MR)

$12.99

VIZ

673

194

0.86

INCREDIBLES TP VOL 04 SECRETS AND LIES

$9.99

BOO

664

195

0.85

BRAM STOKERS DEATH SHIP TP

$17.99

IDW

658

196

0.85

WALKING DEAD HC VOL 03 (MR)

$29.99

IMA

655

197

0.85

GI JOE OPERATION HISS TP VOL 01

$19.99

IDW

653

198

0.85

WALKING DEAD HC VOL 05

$34.99

IMA

653

199

0.84

AIR GEAR GN VOL VOL 15/16/17 (MR)

$21.99

RAN

650

200

0.84

MAID SAMA GN VOL 06

$10.99

TOK

647

201

0.83

HACK SLASH OMNIBUS TP VOL 01 (IMAGE ED) (MR)

$29.99

IMA

637

202

0.83

DARK TOWER PREM HC BATTLE OF JERICHO HILL

$24.99

MAR

637

203

0.82

GREEN LANTERN REBIRTH TP

$14.99

DC

628

204

0.82

LOEG III CENTURY #1 1910 (MR)

$7.95

TOP

628

205

0.81

ALL STAR SUPERMAN TP VOL 01

$12.99

DC

625

206

0.81

BTVS SEASON 8 TP VOL 06 RETREAT

$15.99

DAR

624

207

0.81

MODESTY BLAISE TP VOL 18 SWEET CAROLINE

$19.95

TIT

624

208

0.81

WILD KINGDOM HC (MR)

$19.95

DRA

621

209

0.80

FARSCAPE SCORPIUS TP VOL 01

$9.99

BOO

619

210

0.80

AVENGERS FOREVER HC

$34.99

MAR

617

211

0.80

LIQUID CITY GN VOL 02

$29.99

IMA

614

212

0.80

TRANSMETROPOLITAN TP VOL 01 BACK ON THE STREET (MR)

$14.99

DC

613

213

0.80

AVENGERS INITIATIVE TP DREAMS AND NIGHTMARES

$14.99

MAR

613

214

0.79

CIVIL WAR TP

$24.99

MAR

611

215

0.79

JUNJO ROMANTICA GN VOL 12 (A)

$14.99

TOK

609

216

0.78

KINGDOM COME TP NEW EDITION

$17.99

DC

604

217

0.78

Y THE LAST MAN TP VOL 03 ONE SMALL STEP (MR)

$12.99

DC

604

218

0.78

YOUR LOVE SICKNESS GN (MR)

$12.95

DIG

602

219

0.77

BLACKEST NIGHT GREEN LANTERN HC

$24.99

DC

597

220

0.77

GIRL COMICS HC

$19.99

MAR

595

221

0.77

ARKHAM ASYLUM ANNIVERSARY ED SC (MR)

$17.99

DC

593

222

0.76

RESURRECTION TP VOL 02

$19.99

ONI

584

223

0.75

IRREDEEMABLE TP VOL 01

$9.99

BOO

580

224

0.75

EXILES ULTIMATE COLLECTION TP BOOK 05

$34.99

MAR

576

225

0.75

SHAKUGAN NO SHANA TP VOL 06

$9.99

VIZ

575

226

0.75

CARS TP VOL 04 ROUTE 66 DASH

$9.99

BOO

574

227

0.74

FABLES TP VOL 13 THE GREAT FABLES CROSSOVER (MR)

$17.99

DC

567

228

0.73

DARK TOWER FALL OF GILEAD PREM HC

$24.99

MAR

563

229

0.73

HULK GREEN HULK RED HULK HC

$39.99

MAR

563

230

0.73

DEADMAN WONDERLAND GN VOL 03 (MR)

$10.99

TOK

560

231

0.72

LITTLE LULU GIANT SIZE TP VOL 02

$24.99

DAR

555

232

0.72

ARMY OF TWO VOL 01

$19.99

IDW

555

233

0.72

WITCH OF ARTEMIS GN VOL 01

$10.99

TOK

552

234

0.71

MIGHTY SAMSON ARCHIVES HC VOL 01

$49.99

DAR

550

235

0.71

KYO KARA MAOH GN VOL 07

$10.99

TOK

546

236

0.70

WALKING DEAD HC VOL 04

$34.99

IMA

541

237

0.70

HELLBOY TP VOL 10 CROOKED MAN & OTHERS

$17.99

DAR

538

238

0.70

SINGULARITY 7 TP (NEW PTG)

$19.99

IDW

537

239

0.69

FIRE WATER BILL EVERETT BIRTH OF MARVEL HC

$39.99

FAN

535

240

0.69

FABLES TP VOL 03 STORYBOOK LOVE (MR)

$14.99

DC

534

241

0.69

BOYS TP VOL 01 NAME OF THE GAME (MR)

$16.99

DE

534

242

0.69

Y THE LAST MAN TP VOL 04 SAFEWORD (MR)

$12.99

DC

533

243

0.69

KOKO BE GOOD GN

$18.99

ST.

532

244

0.69

THOR HC AGES OF THUNDER

$24.99

MAR

530

245

0.69

WE WILL BURY YOU TP VOL 01

$17.99

IDW

529

246

0.69

TEENS AT PLAY NAUGHTY NAUGHTY GN (A)

$9.95

ERO

528

247

0.68

OCCULT FILES DOCTOR SPEKTOR ARCHIVES HC VOL 01

$49.99

DAR

523

248

0.68

FINDER GN VOL 01 TARGET IN VIEW FINDER (A)

$13.95

DIG

523

249

0.68

Y THE LAST MAN TP VOL 05 RING OF TRUTH (MR)

$14.99

DC

522

250

0.68

FINGERPRINTS GN

$14.95

TOP

521

251

0.68

Y THE LAST MAN TP VOL 10 WHYS AND WHEREFORES (MR)

$14.99

DC

520

252

0.68

YOURS TRULY JACK THE RIPPER TP VOL 01

$17.99

IDW

520

253

0.67

MICE TEMPLAR HC VOL 02 .2 DESTINY PT 2

$29.99

IMA

517

254

0.67

DEADPOOL TP VOL 02 DARK REIGN

$14.99

MAR

517

255

0.67

DMZ TP VOL 01 ON THE GROUND (MR)

$9.99

DC

514

256

0.67

LIBRARY WARS GN VOL 02

$9.99

VIZ

514

257

0.67

ROCK N ROLL COMICS TP VOL 03 PINK FLOYD EXPERIENCE (MR)

$17.99

BLU

513

258

0.67

BTVS SEASON 8 TP VOL 02 NO FUTURE FOR YOU

$15.99

DAR

513

259

0.66

100 BULLETS TP VOL 01 FIRST SHOT LAST CALL

$9.99

DC

511

260

0.66

X-MEN ORIGINS HC

$29.99

MAR

507

261

0.66

BUCK ROGERS IN 25TH CENTURY DAILIES HC VOL 04

$39.99