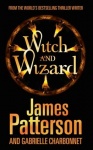 At the New York Comic Con Yen Press announced a manga adaptation of James Patterson's bestselling YA (Young Adult) series Witch & Wizard. Svetlana Chmakova (Nightschool) will be adapting and illustrating Witch & Wizard, which will be serialized in Yen Plus, the publisher's online manga anthology magazine before it is collected in print editions.
Yen Press' manga adaptations of another Patterson-penned YA series, Maximum Ride, have been among the bestselling OEL (original English language) manga titles yet published. Yen has acquired the rights to adapt the first three volumes in the Witch & Wizard series, which is currently also in the process of being adapted for a feature-length Hollywood movie.
Yen also announced that it was planning a manga adaptation of Gail Carriger's debut novel Soulless. The first book in the Parasol Protectorate series, Soulless is a comedy of manners set in a Victorian London overrun with werewolves, vampires, and dirigibles.