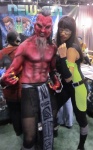 Crowds swelled on Saturday to a point that approached scary at some times and places on the floor (see "NYCC Tops 95,000"), but traffic did flow and everyone seemed to have a good time.
Promoting New-Gen.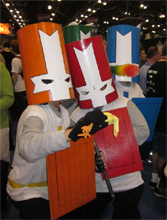 The Comic Social Club is a gathering of comic artists (primarily Zuda refugees) and friends that usually takes place at
New York
watering holes but was transferred to the floor of the convention for the duration.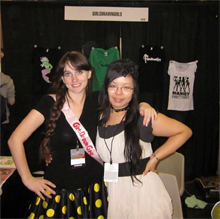 GirlsDrawinGirls, a group of women artists founded in 2006 by
Simpsons
veteran Melody Severns and storyboard artist Anne Walker, seeks to redefine the art of the pin-up by showcasing interpretations by women.
Here we meet Kate Sullivan (l) and Alice Meichili.
Strength in numbers.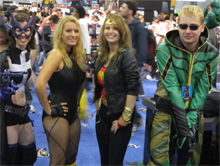 What's that guy's problem?
Everyone else is happy to be there.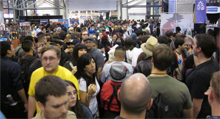 Typical aisle on Saturday—full.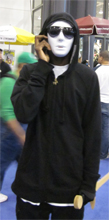 Three promoting
Your Highness
, due out in 2011.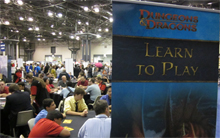 Wizards of the Coast had a major presence at the show.
Here are some of the 24 WotC D&D tables.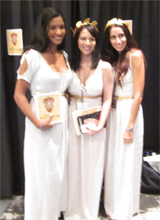 Checking on dinner reservations?
See also New York Comic Con Photos—Part 1
See also New York Comic Con Photos—Part 3