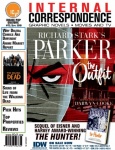 An ICv2 Release. ICv2 has launched a survey of readers of its magazine, ICv2's Internal Correspondence. The survey seeks to learn more about the readers, what they find more and less valuable about the magazine, and changes they're interested in. The survey is currently running on the ICv2.com Website. Click here to take the survey.
ICv2's Internal Correspondence is a magazine with a nearly 30 year history. It was begun as Internal Correspondence by Capital City Distribution in 1982 and was published by the distribution company as its house organ until the company was sold to Diamond Comic Distributors in 1996. It was relaunched as the ICv2 Guide in 2002 and retitled ICv2's Internal Correspondence in 2010.
ICv2, which launched in 2001, was named for the magazine (as in "Internal Correspondence Version 2").