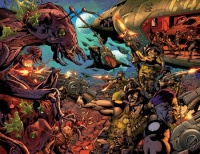 Ender's Game creator Orson Scott Card will create and co-write a prequel graphic novel, Formic Wars, for Marvel. Published as comics first, Formic Wars: Burning Earth will tell the origins of Card's universe for the first time in any medium.
Marvel has previously published comic adaptations of Card's Ender's Game, Ender's Shadow, Ender in Exile, and Speaker of the Dead (see "Marvel to Publish 'Ender's Game' Comics"). Hardcover collections of the comic adaptations of Ender's Game and Ender's Shadow are currently available.
"I wanted my long-imagined story of the Formic Wars to appear first in this wonderfully visualized form," Card said. "With a whole new set of characters, pulling together a ragtag fleet of improvised and adapted spacecraft to take on an alien invader, I think these are some of the best, most inspiring stories in the Ender's Game future history."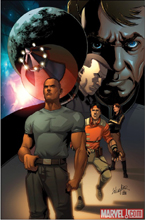 The comics will be co-written by Aaron Johnston, and penciled by Giancarlo Caracuzzo.
The cover will be by Salvador Larroca, with a variant cover by Bryan Hitch.
The first issue (of seven) of Formic Wars: Burning Earth will go on sale in February at $3.99.