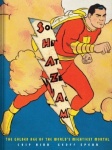 Shazam!: The Golden Age of the World's Mightiest Mortal HC
Publisher: Abrams ComicArts
Release Date: December 2010
Price: $35.00
Creator(s): Chip Kidd and Jeoff Spear
Format: 246 pgs.; Full-Color; Hardcover
ISBN: 978-0-8109-9596-3
Age Rating: All Ages
ICv2 Rating: 5 Stars out of 5
To help commemorate the 70th Anniversary of the original Captain Marvel, Chip Kidd has written and designed a compendium of the incredible amount of merchandise, some never produced, that the character generated in the 1940's. It is one thing to 'know' how popular he was back then but altogether another to see actual evidence of it in the form of page after page of Geoff Spear's spectacular photographs of Captain Marvel memorabilia.
But Kidd has also used his unprecedented access to the DC Comics archives to create a remarkably detailed social history of The Big Red Cheese that examines every aspect of his career. Like the Captain Marvel Fan Club whose 400,00 members were regularly sent letters, purportedly written by the Captain himself, that hyped stories scheduled to appear in the future issues of his comics.
If you're not at all interested in vintage memorabilia the book also includes a fifteen page
Captain Marvel
story by Joe Simon and Jack Kirby as well as reproductions of original art and covers of foreign editions of the comics. It also covers the making of the
Adventures of Captain Marvel
movie serial, including fascinating tidbits like the surprising places the costume later turned up.
As well as being absolutely beautiful to look at
Shazam!: The Golden Age of the World's Mightiest Mortal
does a wonderful job of both showing and telling it's story in a way that will interest anyone who is interested in comics.
--
Steve Bennett: Writer and retail services consultant.