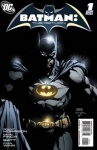 These are estimates of the sales on comic books by Diamond
U.S.
to comic specialty stores during November 2010.

For an overview and analysis of comic sales in November, see "Hat Trick--Top Comic Under 100K."
For an analysis of the dollar trends in November, see "
2010 Comic Sales Down 5.79%
."
For our estimates of actual sales by Diamond
U.S.
from comic specialty stores on graphic novels shipped during October, see "
Top 300 Graphic Novels Actual--October 2010
."
| | | | | | |
| --- | --- | --- | --- | --- | --- |
| | | TOP 300 COMICS -- November 2010 | | | |
| Rank | Index | Title | Price | Pub | Est.Qty |
| 1 | 152.65 | BATMAN THE RETURN #1 | $4.99 | DC | 99,545 |
| 2 | 146.58 | BATMAN INCORPORATED #1 | $3.99 | DC | 95,587 |
| 3 | 137.64 | AVENGERS #7 | $3.99 | MAR | 89,758 |
| 4 | 127.28 | BATMAN RETURN OF BRUCE WAYNE #6 | $3.99 | DC | 83,004 |
| 5 | 123.20 | BATMAN AND ROBIN #16 | $3.99 | DC | 80,343 |
| 6 | 122.61 | BRIGHTEST DAY #13 | $2.99 | DC | 79,955 |
| 7 | 120.30 | BRIGHTEST DAY #14 | $2.99 | DC | 78,452 |
| 8 | 118.13 | AMAZING SPIDER-MAN #648 | $3.99 | MAR | 77,033 |
| 9 | 116.81 | GREEN LANTERN #59 | $2.99 | DC | 76,173 |
| 10 | 108.26 | BATMAN AND ROBIN #17 | $2.99 | DC | 70,600 |
| 11 | 102.32 | NEW AVENGERS #6 | $3.99 | MAR | 66,724 |
| 12 | 100.00 | BATMAN #704 | $2.99 | DC | 65,212 |
| 13 | 92.01 | SECRET AVENGERS #7 | $3.99 | MAR | 59,999 |
| 14 | 88.95 | UNCANNY X-MEN #530 | $3.99 | MAR | 58,006 |
| 15 | 88.44 | FLASH #6 | $2.99 | DC | 57,673 |
| 16 | 88.09 | GREEN LANTERN CORPS #54 | $2.99 | DC | 57,448 |
| 17 | 86.87 | X-MEN #5 | $3.99 | MAR | 56,651 |
| 18 | 86.67 | UNCANNY X-FORCE #2 | $3.99 | MAR | 56,518 |
| 19 | 85.60 | AMAZING SPIDER-MAN #647 | $4.99 | MAR | 55,819 |
| 20 | 80.64 | AMAZING SPIDER-MAN #649 | $3.99 | MAR | 52,586 |
| 21 | 79.13 | WOLVERINE #3 | $3.99 | MAR | 51,600 |
| 22 | 78.03 | JUSTICE LEAGUE OF AMERICA #51 | $3.99 | DC | 50,887 |
| 23 | 75.39 | THOR #617 | $3.99 | MAR | 49,165 |
| 24 | 72.60 | CAPTAIN AMERICA #612 | $3.99 | MAR | 47,343 |
| 25 | 71.03 | GREEN LANTERN EMERALD WARRIORS #4 | $3.99 | DC | 46,319 |
| 26 | 70.94 | SUPERMAN #705 | $2.99 | DC | 46,261 |
| 27 | 67.31 | BATWOMAN #0 | $2.99 | DC | 43,891 |
| 28 | 67.09 | X-MEN LEGACY #242 | $2.99 | MAR | 43,750 |
| 29 | 64.30 | AVENGERS PRIME #4 | $3.99 | MAR | 41,932 |
| 30 | 63.16 | BUFFY VAMPIRE SLAYER #38 LAST GLEAMING PT 3 | $2.99 | DAR | 41,189 |
| 31 | 62.84 | INVINCIBLE IRON MAN #32 | $3.99 | MAR | 40,978 |
| 32 | 62.19 | ULTIMATE COMICS SPIDER-MAN #150 | $5.99 | MAR | 40,553 |
| 33 | 60.88 | SUPERBOY #1 | $2.99 | DC | 39,701 |
| 34 | 60.69 | GREEN ARROW #6 | $2.99 | DC | 39,575 |
| 35 | 59.33 | HULK #27 | $3.99 | MAR | 38,691 |
| 36 | 57.87 | FANTASTIC FOUR #585 | $2.99 | MAR | 37,740 |
| 37 | 57.35 | GENERATION HOPE #1 | $3.99 | MAR | 37,398 |
| 38 | 56.65 | DETECTIVE COMICS #871 | $3.99 | DC | 36,941 |
| 39 | 56.40 | ULTIMATE COMICS AVENGERS 3 #4 | $3.99 | MAR | 36,777 |
| 40 | 54.30 | AVENGERS CHILDRENS CRUSADE #3 | $3.99 | MAR | 35,410 |
| 41 | 54.13 | INCREDIBLE HULKS #616 | $3.99 | MAR | 35,296 |
| 42 | 53.19 | SUPERIOR #2 (MR) | $2.99 | MAR | 34,688 |
| 43 | 52.81 | BIRDS OF PREY #6 | $2.99 | DC | 34,440 |
| 44 | 52.66 | INCREDIBLE HULKS #617 | $3.99 | MAR | 34,340 |
| 45 | 51.50 | JUSTICE SOCIETY OF AMERICA #45 | $2.99 | DC | 33,582 |
| 46 | 51.38 | JUSTICE LEAGUE GENERATION LOST #13 | $2.99 | DC | 33,504 |
| 47 | 50.74 | ACTION COMICS #895 | $3.99 | DC | 33,089 |
| 48 | 50.18 | JUSTICE LEAGUE GENERATION LOST #14 | $2.99 | DC | 32,722 |
| 49 | 50.11 | DAKEN DARK WOLVERINE #3 | $2.99 | MAR | 32,679 |
| 50 | 48.81 | ULTIMATE COMICS THOR #2 | $3.99 | MAR | 31,829 |
| 51 | 48.80 | RED ROBIN #17 | $2.99 | DC | 31,825 |
| 52 | 48.62 | THUNDERBOLTS #150 | $4.99 | MAR | 31,704 |
| 53 | 48.13 | BATMAN ODYSSEY #5 | $3.99 | DC | 31,386 |
| 54 | 48.07 | DEADPOOL #29 | $2.99 | MAR | 31,350 |
| 55 | 48.05 | SUPERMAN BATMAN #78 | $2.99 | DC | 31,337 |
| 56 | 47.88 | X-23 #3 | $2.99 | MAR | 31,224 |
| 57 | 44.80 | VAMPIRELLA #1 | $3.99 | DE | 29,215 |
| 58 | 44.78 | ASTONISHING THOR #1 | $3.99 | MAR | 29,202 |
| 59 | 44.76 | THANOS IMPERATIVE #6 | $3.99 | MAR | 29,188 |
| 60 | 44.43 | WALKING DEAD #79 (MR) | $2.99 | IMA | 28,971 |
| 61 | 43.90 | CHAOS WAR #3 | $3.99 | MAR | 28,630 |
| 62 | 43.68 | BATMAN BEYOND #6 | $2.99 | DC | 28,485 |
| 63 | 40.84 | X-FACTOR #211 | $2.99 | MAR | 26,632 |
| 64 | 40.55 | TEEN TITANS #89 | $2.99 | DC | 26,444 |
| 65 | 40.54 | LEGION OF SUPER HEROES #7 | $3.99 | DC | 26,439 |
| 66 | 39.83 | AVENGERS ACADEMY #6 | $2.99 | MAR | 25,977 |
| 67 | 39.60 | BATGIRL #15 | $2.99 | DC | 25,827 |
| 68 | 39.01 | NEW MUTANTS #19 | $2.99 | MAR | 25,440 |
| 69 | 38.97 | SUPERGIRL #58 | $2.99 | DC | 25,412 |
| 70 | 38.32 | SCARLET #3 (MR) | $3.95 | MAR | 24,986 |
| 71 | 37.63 | ADVENTURE COMICS #520 | $3.99 | DC | 24,540 |
| 72 | 37.01 | TITANS #29 | $2.99 | DC | 24,138 |
| 73 | 36.89 | SECRET WARRIORS #22 | $2.99 | MAR | 24,059 |
| 74 | 36.69 | SPIDER-GIRL #1 | $3.99 | MAR | 23,926 |
| 75 | 36.14 | CAPTAIN AMERICA MAN OUT OF TIME #1 | $3.99 | MAR | 23,566 |
| 76 | 35.86 | DEADPOOLMAX #2 (MR) | $3.99 | MAR | 23,382 |
| 77 | 35.60 | DC UNIVERSE LEGACIES #7 | $3.99 | DC | 23,215 |
| 78 | 35.50 | OSBORN #1 | $3.99 | MAR | 23,152 |
| 79 | 34.33 | BATMAN STREETS OF GOTHAM #17 | $3.99 | DC | 22,390 |
| 80 | 33.97 | TRUE BLOOD #5 | $3.99 | IDW | 22,154 |
| 81 | 33.92 | RED HOOD LOST DAYS #6 | $2.99 | DC | 22,123 |
| 82 | 33.90 | GOTHAM CITY SIRENS #17 | $2.99 | DC | 22,107 |
| 83 | 32.84 | IRON MAN THOR #1 | $3.99 | MAR | 21,416 |
| 84 | 32.10 | THOR FOR ASGARD #4 | $3.99 | MAR | 20,934 |
| 85 | 31.70 | ZATANNA #7 | $2.99 | DC | 20,671 |
| 86 | 31.50 | NAMOR FIRST MUTANT #3 | $2.99 | MAR | 20,541 |
| 87 | 31.34 | HELLBOY DOUBLE FEATURE OF EVIL ONE SHOT #1 | $3.50 | DAR | 20,436 |
| 88 | 31.15 | CHAOS WAR DEAD AVENGERS #1 | $3.99 | MAR | 20,312 |
| 89 | 30.71 | PUNISHER IN BLOOD #1 | $3.99 | MAR | 20,028 |
| 90 | 30.68 | BOYS #48 (MR) | $3.99 | DE | 20,004 |
| 91 | 30.61 | SECRET SIX #27 | $2.99 | DC | 19,963 |
| 92 | 30.44 | AMERICAN VAMPIRE #8 (MR) | $3.99 | DC | 19,850 |
| 93 | 30.27 | CHAOS WAR THOR #1 | $3.99 | MAR | 19,738 |
| 94 | 30.10 | JSA ALL STARS #12 | $3.99 | DC | 19,630 |
| 95 | 29.85 | NAMOR FIRST MUTANT #4 | $2.99 | MAR | 19,469 |
| 96 | 29.55 | X-MEN TO SERVE AND PROTECT #1 | $3.99 | MAR | 19,273 |
| 97 | 28.55 | SHE-HULKS #1 | $3.99 | MAR | 18,616 |
| 98 | 28.16 | INVADERS NOW #3 | $3.99 | MAR | 18,366 |
| 99 | 28.01 | DEADPOOL CORPS #8 | $2.99 | MAR | 18,267 |
| 100 | 27.44 | KEVIN SMITH GREEN HORNET #9 | $3.99 | DE | 17,894 |
| 101 | 27.22 | KEVIN SMITH GREEN HORNET #10 | $3.99 | DE | 17,753 |
| 102 | 27.11 | DEADPOOL TEAM-UP #887 | $2.99 | MAR | 17,677 |
| 103 | 26.96 | CHAOS WAR CHAOS KING #1 | $3.99 | MAR | 17,578 |
| 104 | 26.53 | POWER GIRL #18 | $2.99 | DC | 17,300 |
| 105 | 26.50 | BATMAN CATWOMAN FOLLOW THE MONEY #1 | $4.99 | DC | 17,281 |
| 106 | 26.49 | BOOSTER GOLD #38 | $2.99 | DC | 17,276 |
| 107 | 26.32 | CHAOS WAR ALPHA FLIGHT #1 | $3.99 | MAR | 17,164 |
| 108 | 26.11 | INVINCIBLE #75 (MR) | $5.99 | IMA | 17,029 |
| 109 | 26.06 | WARLORD OF MARS #2 | $3.99 | DE | 16,991 |
| 110 | 25.69 | STAND HARDCASES #5 | $3.99 | MAR | 16,751 |
| 111 | 25.54 | HAUNT #11 | $2.99 | IMA | 16,658 |
| 112 | 24.72 | THUNDER AGENTS #1 | $3.99 | DC | 16,122 |
| 113 | 24.06 | THUNDERSTRIKE #1 | $3.99 | MAR | 15,689 |
| 114 | 24.01 | STAR WARS OLD REPUBLIC #5 BLOOD OF EMPIRE PT 2 | $2.99 | DAR | 15,660 |
| 115 | 23.93 | STAR WARS BLOOD TIES TALE JANGO & BOBA FETT #4 | $3.50 | DAR | 15,606 |
| 116 | 23.81 | JLA THE 99 #2 | $3.99 | DC | 15,525 |
| 117 | 23.71 | BULLSEYE PERFECT GAME #1 | $3.99 | MAR | 15,462 |
| 118 | 23.71 | DUNGEONS AND DRAGONS #1 | $3.99 | IDW | 15,462 |
| 119 | 23.69 | STAN LEE TRAVELER #1 | $3.99 | BOO | 15,450 |
| 120 | 23.65 | CONAN THE CIMMERIAN #25 | $2.99 | DAR | 15,421 |
| 121 | 23.60 | BOYS HIGHLAND LADDIE #4 (MR) | $3.99 | DE | 15,389 |
| 122 | 23.02 | DEADPOOL PULP #3 | $3.99 | MAR | 15,009 |
| 123 | 22.96 | ANT-MAN & WASP #1 | $3.99 | MAR | 14,975 |
| 124 | 22.93 | STAR WARS KNIGHT ERRANT AFLAME #2 | $2.99 | DAR | 14,956 |
| 125 | 22.78 | BLACK WIDOW #8 | $2.99 | MAR | 14,856 |
| 126 | 22.41 | SHADOWLAND BLOOD ON STREETS #4 SL | $3.99 | MAR | 14,617 |
| 127 | 22.18 | KNIGHT & SQUIRE #2 | $2.99 | DC | 14,466 |
| 128 | 22.16 | BATMAN CONFIDENTIAL #50 | $4.99 | DC | 14,450 |
| 129 | 22.16 | ANGEL #39 | $3.99 | IDW | 14,449 |
| 130 | 21.80 | HAWKEYE & MOCKINGBIRD #6 | $2.99 | MAR | 14,217 |
| 131 | 21.78 | WARRIORS THREE #1 | $3.99 | MAR | 14,203 |
| 132 | 21.67 | SHADOWLAND DAUGHTERS OF SHADOW #3 SL | $3.99 | MAR | 14,129 |
| 133 | 21.53 | THOR FIRST THUNDER #3 | $3.99 | MAR | 14,038 |
| 134 | 20.99 | IRON MAN LEGACY #8 | $2.99 | MAR | 13,686 |
| 135 | 20.83 | SHADOWLAND POWER MAN #4 SL | $3.99 | MAR | 13,584 |
| 136 | 20.82 | OUTSIDERS #34 | $2.99 | DC | 13,576 |
| 137 | 20.28 | OZMA OF OZ #1 | $3.99 | MAR | 13,222 |
| 138 | 20.13 | TASKMASTER #3 | $3.99 | MAR | 13,127 |
| 139 | 20.01 | CHEW #15 (MR) | $2.99 | IMA | 13,047 |
| 140 | 19.63 | IZOMBIE #7 (MR) | $2.99 | DC | 12,800 |
| 141 | 19.14 | IRON MAN RAPTURE #1 | $3.99 | MAR | 12,479 |
| 142 | 18.83 | I AM AN AVENGER #3 | $3.99 | MAR | 12,277 |
| 143 | 18.50 | AVENGERS & INFINITY GAUNTLET #4 | $2.99 | MAR | 12,064 |
| 144 | 18.46 | UNWRITTEN #19 (MR) | $2.99 | DC | 12,036 |
| 145 | 18.43 | X-MEN FOREVER 2 #11 | $3.99 | MAR | 12,018 |
| 146 | 18.22 | BPRD HELL ON EARTH NEW WORLD #4 | $3.50 | DAR | 11,882 |
| 147 | 18.16 | ARTIFACTS #3 | $3.99 | IMA | 11,844 |
| 148 | 18.03 | X-MEN FOREVER 2 #12 | $3.99 | MAR | 11,756 |
| 149 | 17.94 | INCREDIBLE HULKS ENIGMA FORCE #3 | $3.99 | MAR | 11,696 |
| 150 | 17.70 | GI JOE A REAL AMERICAN HERO #160 | $3.99 | IDW | 11,544 |
| 151 | 17.32 | MORNING GLORIES #4 | $3.50 | IMA | 11,292 |
| 152 | 17.23 | IRON MAN RAPTURE #2 | $3.99 | MAR | 11,239 |
| 153 | 17.15 | FREEDOM FIGHTERS #3 | $2.99 | DC | 11,186 |
| 154 | 17.14 | STAN LEE SOLDIER ZERO #2 | $3.99 | BOO | 11,180 |
| 155 | 17.02 | IRREDEEMABLE #19 | $3.99 | BOO | 11,102 |
| 156 | 16.89 | YOUNG ALLIES #6 | $2.99 | MAR | 11,015 |
| 157 | 16.86 | TRANSFORMERS ONGOING #13 | $3.99 | IDW | 10,998 |
| 158 | 16.85 | GI JOE #24 | $3.99 | IDW | 10,985 |
| 159 | 16.56 | REBELS #22 | $2.99 | DC | 10,797 |
| 160 | 16.56 | JONAH HEX #61 | $2.99 | DC | 10,796 |
| 161 | 16.12 | NEW MUTANTS FOREVER #4 | $3.99 | MAR | 10,515 |
| 162 | 15.88 | KLAWS OF PANTHER #3 | $3.99 | MAR | 10,356 |
| 163 | 15.51 | WITCHBLADE #139 | $2.99 | IMA | 10,113 |
| 164 | 15.36 | KEVIN SMITH KATO #5 | $3.99 | DE | 10,015 |
| 165 | 15.27 | STRANGE TALES 2 #2 | $4.99 | MAR | 9,960 |
| 166 | 15.27 | DOOM PATROL #16 | $2.99 | DC | 9,955 |
| 167 | 15.19 | CAPTAIN AMERICA FOREVER ALLIES #4 | $3.99 | MAR | 9,905 |
| 168 | 14.79 | HELLBLAZER #273 (MR) | $2.99 | DC | 9,645 |
| 169 | 14.76 | CROSSED FAMILY VALUES #5 (MR) | $3.99 | AVA | 9,628 |
| 170 | 14.66 | BALTIMORE PLAGUE SHIPS #4 | $3.50 | DAR | 9,558 |
| 171 | 14.57 | X-FILES 30 DAYS OF NIGHT #5 (MR) | $3.99 | DC | 9,504 |
| 172 | 14.42 | INCORRUPTIBLE #12 | $3.99 | BOO | 9,403 |
| 173 | 14.25 | HEROIC AGE VILLAINS #1 | $3.99 | MAR | 9,294 |
| 174 | 14.20 | SPIKE #2 | $3.99 | IDW | 9,262 |
| 175 | 14.20 | DOC SAVAGE #8 | $3.99 | DC | 9,257 |
| 176 | 14.04 | LAST PHANTOM #3 | $3.99 | DE | 9,157 |
| 177 | 13.89 | RED SONJA #53 | $3.99 | DE | 9,060 |
| 178 | 13.76 | GI JOE ORIGINS #21 | $3.99 | IDW | 8,970 |
| 179 | 13.64 | HALCYON #1 | $2.99 | IMA | 8,895 |
| 180 | 13.42 | SWEET TOOTH #15 (MR) | $2.99 | DC | 8,750 |
| 181 | 13.35 | SPIRIT #8 | $3.99 | DC | 8,706 |
| 182 | 13.33 | KULL THE HATE WITCH #1 | $3.50 | DAR | 8,695 |
| 183 | 13.05 | ANGEL ILLYRIA #1 | $3.99 | IDW | 8,509 |
| 184 | 13.04 | QUEEN SONJA #11 | $3.99 | DE | 8,502 |
| 185 | 12.92 | MOUSE GUARD LEGENDS O/T GUARD #4 | $3.50 | ARA | 8,423 |
| 186 | 12.91 | THOR MIGHTY AVENGER #6 | $2.99 | MAR | 8,420 |
| 187 | 12.89 | ALL NEW BATMAN THE BRAVE AND THE BOLD #1 | $2.99 | DC | 8,408 |
| 188 | 12.69 | GI JOE COBRA II #10 | $3.99 | IDW | 8,275 |
| 189 | 12.49 | WOMEN OF MARVEL #1 | $3.99 | MAR | 8,145 |
| 190 | 12.31 | TINY TITANS LITTLE ARCHIE #2 | $2.99 | DC | 8,025 |
| 191 | 12.17 | AVENGERS EARTHS MIGHTIEST HEROES #1 | $3.99 | MAR | 7,934 |
| 192 | 12.10 | NIGHTMASTER MONSTERS OF ROCK #1 | $2.99 | DC | 7,890 |
| 193 | 12.02 | AZRAEL #14 | $2.99 | DC | 7,841 |
| 194 | 11.95 | CONSTANTINE HELLBLAZER CITY OF DEMONS #3 (MR) | $2.99 | DC | 7,791 |
| 195 | 11.91 | SONIC THE HEDGEHOG #219 | $2.99 | ARC | 7,770 |
| 196 | 11.85 | COMIC BOOK GUY THE COMIC BOOK #5 | $2.99 | BON | 7,730 |
| 197 | 11.83 | TINY TITANS #34 | $2.99 | DC | 7,713 |
| 198 | 11.79 | GFT WONDERLAND ANNUAL 2010 | $5.99 | ZEN | 7,686 |
| 199 | 11.76 | TAROT WITCH OF THE BLACK ROSE #65 (MR) | $2.95 | BRO | 7,671 |
| 200 | 11.67 | HOUSE OF MYSTERY #31 (MR) | $2.99 | DC | 7,610 |
| 201 | 11.60 | CONSTANTINE HELLBLAZER CITY OF DEMONS #4 (MR) | $2.99 | DC | 7,566 |
| 202 | 11.53 | WORLD OF WARCRAFT CURSE OF THE WORGEN #1 | $2.99 | DC | 7,521 |
| 203 | 11.39 | SIMPSONS COMICS #172 | $2.99 | BON | 7,429 |
| 204 | 11.08 | LOCKE & KEY KEYS TO THE KINGDOM #3 | $3.99 | IDW | 7,225 |
| 205 | 11.00 | MAGDALENA (ONGOING) #4 | $3.99 | IMA | 7,171 |
| 206 | 10.80 | MADAME XANADU #29 (MR) | $2.99 | DC | 7,040 |
| 207 | 10.76 | NORTHLANDERS #34 (MR) | $2.99 | DC | 7,018 |
| 208 | 10.64 | ASSASSINS CREED THE FALL #1 (MR) | $3.99 | DC | 6,941 |
| 209 | 10.51 | TRON ORIGINAL MOVIE ADAPTATION #1 | $3.99 | MAR | 6,854 |
| 210 | 10.47 | KATO ORIGINS WAY O/T NINJA #5 | $3.99 | DE | 6,826 |
| 211 | 10.26 | TERMINATOR 1984 #3 | $3.50 | DAR | 6,693 |
| 212 | 10.22 | TRANSFORMERS SECTOR 7 #3 | $3.99 | IDW | 6,665 |
| 213 | 10.21 | STAR TREK KHAN RULING IN HELL #2 | $3.99 | IDW | 6,660 |
| 214 | 10.18 | SONIC UNIVERSE #22 | $2.99 | ARC | 6,641 |
| 215 | 10.07 | DARKWING DUCK #6 | $3.99 | BOO | 6,565 |
| 216 | 9.87 | GREEN HORNET BLOOD TIES #2 | $3.99 | DE | 6,439 |
| 217 | 9.80 | FUTURAMA COMICS #52 | $2.99 | BON | 6,390 |
| 218 | 9.70 | SCALPED #43 (MR) | $2.99 | DC | 6,324 |
| 219 | 9.65 | ANGELUS #6 | $2.99 | IMA | 6,294 |
| 220 | 9.36 | ASTOUNDING WOLF-MAN #25 | $4.99 | IMA | 6,104 |
| 221 | 9.34 | GOD OF WAR #5 (MR) | $3.99 | DC | 6,088 |
| 222 | 9.30 | VICTORIAN UNDEAD II HOLMES VS DRACULA #1 | $3.99 | DC | 6,066 |
| 223 | 9.27 | DMZ #59 (MR) | $2.99 | DC | 6,046 |
| 224 | 9.19 | TOM STRONG AND THE ROBOTS OF DOOM #6 | $3.99 | DC | 5,995 |
| 225 | 9.18 | AUTHORITY #28 | $2.99 | DC | 5,984 |
| 226 | 9.14 | X-MEN CURSE OF MUTANTS SPOTLIGHT #1 | $3.99 | MAR | 5,962 |
| 227 | 9.03 | HACK SLASH TRAILERS PART 2 (MR) | $6.99 | IMA | 5,887 |
| 228 | 9.00 | AVENGERS VS PET AVENGERS #2 | $2.99 | MAR | 5,871 |
| 229 | 9.00 | MONSTER HUNTERS SURVIVAL GUIDE #1 | $3.99 | ZEN | 5,868 |
| 230 | 8.81 | BILLY THE KID GHASTLY FIEND LONDON #3 | $3.99 | DAR | 5,744 |
| 231 | 8.81 | TRON BETRAYAL #2 | $4.99 | MAR | 5,742 |
| 232 | 8.70 | GI JOE FUTURE NOIR SP #1 | $7.99 | IDW | 5,676 |
| 233 | 8.59 | SPIDER-MAN #7 | $2.99 | MAR | 5,603 |
| 234 | 8.14 | ROBERT JORDAN WHEEL OF TIME EYE O/T WORLD #6 | $3.99 | DE | 5,311 |
| 235 | 8.13 | MYSTERY SOCIETY #4 | $3.99 | IDW | 5,299 |
| 236 | 8.08 | SPIDER-MAN #8 | $2.99 | MAR | 5,269 |
| 237 | 7.96 | GREEN HORNET PARALLEL LIVES #5 | $3.99 | DE | 5,194 |
| 238 | 7.95 | FRINGE TALES FROM THE FRINGE #6 | $3.99 | DC | 5,187 |
| 239 | 7.90 | WILDCATS #29 | $2.99 | DC | 5,151 |
| 240 | 7.84 | DV8 GODS AND MONSTERS #8 | $2.99 | DC | 5,112 |
| 241 | 7.68 | SKULLKICKERS #3 | $2.99 | IMA | 5,008 |
| 242 | 7.68 | MIGHTY CRUSADERS #5 | $3.99 | DC | 5,006 |
| 243 | 7.63 | SUPER HERO SQUAD #11 | $2.99 | MAR | 4,977 |
| 244 | 7.62 | DO ANDROIDS DREAM OF ELECTRIC SHEEP #17 | $3.99 | BOO | 4,969 |
| 245 | 7.61 | UNKNOWN SOLDIER #25 (MR) | $2.99 | DC | 4,962 |
| 246 | 7.58 | SAVAGE DRAGON #166 | $3.50 | IMA | 4,943 |
| 247 | 7.55 | SIMPSONS WINTER WINGDING #5 | $4.99 | BON | 4,921 |
| 248 | 7.45 | SCOOBY DOO WHERE ARE YOU #3 | $2.99 | DC | 4,861 |
| 249 | 7.44 | WHATEVER HAPPENED TO BARON VON SHOCK #4 (MR) | $3.99 | IMA | 4,854 |
| 250 | 7.43 | JURASSIC PARK REDEMPTION #5 | $3.99 | IDW | 4,842 |
| 251 | 7.22 | SILENT HILL PAST LIFE #1 | $3.99 | IDW | 4,710 |
| 252 | 7.18 | USAGI YOJIMBO #133 TAIKO PT 2 | $3.50 | DAR | 4,681 |
| 253 | 7.16 | LAST UNICORN #6 | $3.99 | IDW | 4,670 |
| 254 | 7.11 | CLINT #2 (MR) | $6.99 | TIT | 4,637 |
| 255 | 7.10 | BROKEN TRINITY PANDORAS BOX #4 | $3.99 | IMA | 4,628 |
| 256 | 6.87 | CHRONICLES OF WORMWOOD LAST BATTLE #5 (MR) | $3.99 | AVA | 4,477 |
| 257 | 6.74 | HOLLOW POINT DAMAGED FLIP BOOK | $1.00 | RAL | 4,398 |
| 258 | 6.68 | ATOMIC ROBO DEADLY ART OF SCIENCE #1 | $3.50 | RED | |