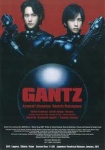 NCM Fathom, New People, and Dark Horse Comics are presenting the live-action Gantz motion picture in 325 theaters in an exclusive one-night engagement on Thursday, January 20th at 8pm (ET), 7pm (CT), 6pm (MT), and 8:30pm (PT, tape delayed). The showings will be followed by live video chat with Gantz's two leading actors, Kazunari Ninomiya (Letters From Iwo Jima) and Kenichi Matsuyama (Death Note, Detroit Metal City).
The live-action Gantz film, which is directed by Shinsuke Sato, is the first of two movies based on the seinen manga series written and illustrated by Hiroya Oku and published in North America by Dark Horse. The first live-action Gantz film was supposed to debut in Japan on January 29th, 2011, so the January 20th U.S. opening, which gives North American fans of the series an early chance to check it out, is actually quite a coup. The Gantz anime series, which was produced by Gonzo, was originally released here by ADV and was one of the most popular "mature (18+)" anime releases in the history of the North American market.
National CineMedia is a pioneer in the rapidly growing field of digital in-theater presentations. New People, which was founded by Seiji Horibuchi, who headed Viz Media for years, offers the latest in films, art, fashion and retail brands from Japan. Gantz is one of Dark Horse Comics' most popular seinen manga series.