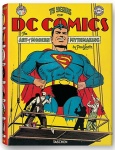 75 Years of DC Comics: The Art of Modern Mythmaking, the unbelievably great tome by Paul Levitz, made #3 on E!'s list of the Top 10 Entertainment Books of 2010. The huge (720 pages, 18.4" x 13", 16 pounds) volume from Taschen tells the complete story of DC from its beginnings in 1935 to the present. Levitz, who spent over half that time at the company including a long stint as publisher, was the perfect person to produce this book; his knowledge and access are unsurpassed.
With over 2000 images, many produced in oversized splendor, this book is one of the coolest books about comics ever published, and E! obviously recognized that fact. At $200 retail, it's not for the faint of heart, but worth every penny.
E! also chose a couple of other books with geek culture connections for its Top 10 Books list, including the slipcased Simpson's World: Ultimate Episode Guide (#8) and Making of Empire Strikes Back (#10).