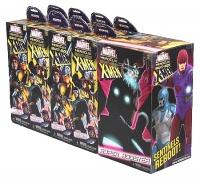 WizKids is supporting its Giant-Size X-Men set with a Buy it By the Brick program and Organized Play kits. The Giant Size X-Men set, which streets March 16th, introduces a new SKU, the Super Booster, which contains one of six different giant-sized figures (which include Nemesis, Onslaught, and the Sentinels). One Super Booster comes packed with eight five-figure Booster Packs in Bricks, and stores can pre-order one additional Super Booster with each Brick ordered.
The set includes 58 new figures in the regular Booster Packs, including subthemes such as Astonishing X-Men, Brotherhood of Mutants, Nextwave, and Hellions.
WizKids is reviving its Buy it By the Brick program with the GSX release. The promo figure, Jamie Madrox (Multiple Man) will be made available at stores with Brick purchases, rather than via mail-in redemption.
WizKids is also making Organized Play Kits available with this release. Each Kit will support ten weeks of events, including prizes for first and second place, a fellowship drawing, and a judge reward. A suggested tournament schedule and prize distribution format is also included.
Retailers will not need to record or report events, and will ultimately determine how events will run in their stores and how kits will be used (although they are not to be resold). Envoys or judges are not required, but rewards for such assistance are included in the Kit.
Kit contents are 15 Limited Edition figures (three copies of variant paint jobs of five different figures, each with a character card), 18 3-D objects (nine each of two different objects, each of which will have a special game effect), ten 24" x 36" maps, and an instruction sheet.
Retailers may buy one OP Kit with two GSX cases, two with seven GSX cases, and three with 12 GSX cases (that's the max per store).