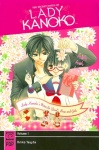 The Secret Notes of Lady Kanoko Vol. 1 (Manga)
Publisher: Tokyopop
Release Date: Decemebr 2010
Price: $10.99
Creator: Ririko Tsujita
Format: 208 pgs.; B&W; Trade Paperback
ISBN: 978-1-4278-2011-2
Age Rating: T/Teen/13+
ICv2 Rating: 2 Stars out of 5
Kanoko is an outsider, but that's okay because that's the best place for an observer. She watches and takes notes on her classmates, recording data to further her research. But when three of her classmates decide to befriend her, how will Kanoko remain objective enough to continue her work?
Tsujita's first manga suffers from her inexperience, but still has enough interesting points to keep readers engaged. Kanoko is refreshingly abrupt and curt most of the time and she uses her observations to right wrongs, even if she doesn't really think of it that way. Some of the other female characters are the same way, giving the story a tiny bit of bite, though not quite enough to make it really good. The plot is too odd to be taken seriously, but not odd enough to be really funny. Several points--most especially why Kanoko changes schools with every chapter--are not explained and this keeps readers from losing themselves in the story.
The art is nothing out of the ordinary manga style, though Kanoko's round face, half-glasses, and devious smile give her the right touch of ordinariness. The other characters are often too similar to each other and the pages are rather chaotically laid out, though most of these issues will likely resolve themselves as Tsujita matures as an artist. Overall, Kanoko's story is light and cute, not necessary, but unique enough to give a little spice to the shojo world.
--
Snow Wildsmith: Writer and former teen librarian and ALA/YALSA committee member.