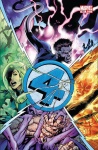 Diamond Comic Distributors reported that comic book sales in the month of January plunged over 23% in the number of units and nearly 22% in dollars versus sales in January of 2010. Graphic novels were also down substantially, falling over 19% in units and 16.5% in dollars. Combined comics and graphic novels were down nearly 23% in units and 20.24% in dollars.
Fantastic Four #587, which featured the death of an original team member, was the bestselling comic in January, though the fact that it came out during the last week of the month meant that reorders will be credited to February. DC's event series Brightest Day continued to do well claiming the second and third spots, while Image Comics' Spawn returned to the top ten at #4 with an anniversary issue (#200). Vertigo's Jack of Fables Vol. 8 topped the graphic novels charts, followed by TV-driven sales of the venerable first volume of Robert Kirkman's The Walking Dead from Image.
Part of the reason for the year-over-year decline could have been the weather, which was brutal in many areas of the country, especially on the East Coast, and part of it could have been the strength of the releases in the first month of 2010, in which periodical comics actually posted a 1% increase over January of 2009 (though it was 8% below 2008 and 7% down from 2007). Comic sales in January of 2010 were led by the launch of Marvel's Siege #1 event book, which sold over 108,000 copies and DC's anniversary book Green Lantern #50, which toted up over 106,000 in sales. On the graphic novel side a year ago, Image's The Walking Dead Vol. 11: Fear the Hunters dominated the charts by selling over 16,000 copies, nearly three times the sales of its nearest competitor. Look for actual numbers for January, 2011 Top 300 comics and graphic novels to be published by ICv2 shortly.
After seeing DC pull nearly even in December, Marvel Comics re-established its preeminent market share position in January, topping DC 39.06% to 26.38% in dollars and 42.37% to 31.8% in units. DC's sales (and overall January numbers) were hurt by the absence of a number of DC heavy hitters including Batman, Inc., The Dark Knight and Green Lantern. Buoyed by sales of its hit graphic novel series The Walking Dead and Chew as well as by Spawn #200, Image Comics took solid possession of third place (7.6% in dollars, 6.45% in units) with its best showing in three years. Dark Horse Comics and IDW Publishing were neck and neck in the battle for fourth place, with Dark Horse ahead in dollars (4.82% to 4.75%) and IDW leading in units (4.6% to 3.7%). Dynamite Entertainment finished in sixth place (2.82%) followed by BOOM! Studios (2.01%).