McFarlane Toys has announced two separate licensing deals to create figures based on The Walking Dead. The first agreement is with AMC to create action figures based on the TV series that debuted last Halloween, while the second is with Robert Kirkman, creator of the original The Walking Dead comic book. In 2011 McFarlane Toys will produce two four-figure series of The Walking Dead figures, one based on each license. Both series will debut in the fall, which individual figures likely to sell for $14.99 at retail.
The Walking Dead Series 1, which is due out in September, will be based on Kirkman's Image Comics series and will include highly-detailed six-inch action figures of Officer Rick Grimes, Michonne, Zombie Lurker, and Zombie Roamer.
The Walking Dead Series 2, which will hit retail in November, is based on the AMC series and will include Deputy Rick Grimes, Daryl Dixon, Zombie Walker, and Zombie Biter.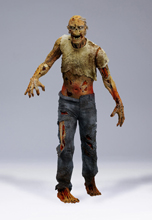 Each figure in both series will include interchangeable accessories, and multiple points of articulation. The zombie figure feature unique gory play action effects such as exploding heads and removable limbs.