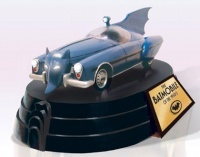 Evergreen properties were atop all five product categories of our Top 10 Cool lists for September. Batman was #1 in both comics and toys, Enterprise (Star Trek) won movie/TV merchandise, Gundam Wing topped anime, and Mechwarrior (based on FASA's original battling mech game, Battletech) won games. These Top 10 Cool lists were compiled from numbers submitted by retailers reporting dollar sales (not pieces, not orders) during September. Click here for all of the Top 10 Cool lists for September.
Toys
The very cool porcelain 1950s Batmobile at $195 from DC Direct topped big bucks toys in September. The company dominated the listings, with six of the top 10 products. Three Marvel mini-busts from Bowen also made the Top 10, and the only non-comic property on the list was Palisades' G.I. Joe Snake Eyes Mini-bust. For the Top 10 Cool Toys of September, click here.
Anime
The Gundam Wing: Complete Operations DVD Box Set, with all 49 episodes, was the top dollar anime product in September. Another high-dollar product, The Gasaraki DVD Box Set, came in second. A hentai title from Anime18 cracked the top 10 this month, an unusual event. Two shoujo titles, Cardcaptors Sakura and Sailor Moon, also made the list. Click here for the Top 10 Cool Anime for September.
Games
WizKids' Mechwarrior: Dark Ages Booster Pack held the #1 game slot for the second month in a row, and WizKids placed three of its four major lines (Mechwarrior, DC HeroClix, and Marvel HeroClix) in the Top 10 (Mage Knight was the only that didn't make the list). Marvel HeroClix was especially notable -- the Infinity Challenge Boosters have now been in the Top 10 for five months. Yu Gi Oh crept up, with the #3 and #4 positions. If supply continues to improve, it will probably win the category soon. Two RPGs made the list -- the D&D Monster Manual II, and the Buffy RPG Core Rulebook. Magic: the Gathering rounded out the list. Click here for the Top 10 Cool Games.
Comics
As usual, pricey hardcovers won the category; not so typically, one of them was a Marvel -- the Captain America Red White and Blue hardcover. X-Men, Transformers, Spider-Man, League of Extraordinary Gentlemen, and Planetary/JLA rounded out the list.
Click here for the Top 10 Cool Comics for September.
Movie/TV Merchandise
Trading cards based on TV shows from non-Big 3 networks won the category this month, with the Enterprise cards from Rittenhouse and the Buffy cards from Inkworks in the top two positions.

High-dollar tv-based DVD sets took five positions, including the Simpsons in a repeat.

Click here for the Top 10 Cool Movie/TV products for September.