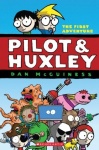 Pilot & Huxley: The First Adventure Paperback
Publisher: Scholastic/GRAPHIX
Release Date: January 2011
Price: $7.99
Creator: Dan McGuiness
Format: 64 pgs.; Full-Color; Trade Paperback
ISBN: 978-0-545-26504-1
Age Rating: Ages 7-9, Grades 2-4
ICv2 Rating: 4 Stars out of 5
Huxley's family seems to have disappeared, but that's not nearly as bad as Pilot forgetting to return his rental video game. Now they're being chased through strange dimensions by aliens who need the video game in order to take over the world, which wouldn't be so bad if the other dimensions didn't seem to be made up entirely of snot and bees and really annoying girls.
McGuiness' first book is a terrific blend of humor, action, and oddness. Readers will love watching the ordinarily laid back Pilot and Huxley try to cope with the weird happenings. Most of the humor is made up of random incidents, some of which poke fun at other books or movies, others of which are just there for the gross-out, and all of which are blithely accepted by everyone except Pilot and Huxley. Using bright, eye-catching colors, McGuiness illustrates his work with rough, thick-lined art that is deceptively detailed. The typed words in the speech bubbles add to the faux-amateur style.
Scholastic is selling its title short in terms of age rating.
Pilot & Huxley's
slacker tones and purposefully childish art have enough in common with Comedy Central's
South Park
(though with kid-appropriate language and content) to appeal to readers all the way up through early middle school, even as the snot and silliness will make their younger siblings laugh.
--
Snow Wildsmith: Writer and former teen librarian and ALA/YALSA committee member.