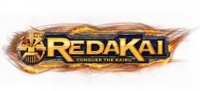 The 52-Episode Redakai: Conquer the Kairu animated series produced by Marathon Media is set to debut on the Cartoon Network in July. The series stars Ky, a 15-year-old student of ancient martial arts, who embarks on an epic quest to find the Kairu, a primordial alien energy source. Aided by his friends Maya and Boomer, Ky travels the world searching for the Kairu, while attempting to make sure that his extraterrestrial teenage alien adversaries don't find it first.
The
Redakai: Conquer the Kairu
cartoon series ties in closely with the innovative
RedaKai Lenticular Trading Card Game
unveiled by Spin Master at Toy Fair (see "
Hobby Gets First Crack at Next Big Thing
"). Spin Master's Justin Gary, who supervised the development of the
RedaKai TCG
, also worked closely with Marathon Media on the creation of the animated series. Gary told ICv2: "We were very involved in the development of the cartoon series, making sure that the story elements matched with the backstory of the game itself, and that the gameplay elements were also reflected in cartoons."
Marathon Media, which produced the Redakai: Conquer the Kairu series and is part of Zodiac Kids, has created a number of animated series including Monster Buster Club, Martin Mystery, and Team Galaxy. In 2010 Zodiac Kids produced over 350 episodes of children's programming.