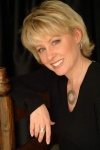 Courtney Simmons has been named Senior Vice President of Publicity for DC Entertainment at Warner Bros. Simmons will be based in Burbank and will report to John Rood, EVP of Sales, Marketing, and Business Development.
In her new role, Simmons will oversee and manage media relations and internal communications for DC Entertainment and its executives. She will be responsible for developing and leading the PR strategy for DC Comics' portfolio of characters (as well as Vertigo and Mad Magazine characters & properties) across all media platforms. She will also oversee the New York-based DC Entertainment publicity team.
Prior to joining DC Entertainment, Simmons was VP of Communications for the Disney Interactive Media Group. She also served as a communications executive for Sony Online Entertainment and was part of the original PR team that announced the new DC Universe Online Game.