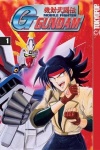 Tokyopop announced that it has acquired the rights to six manga series that it plans to release in the U.S. in 2003. Tokyopop's G Gundam manga, part of one of the mega-franchises in both Japan and the U.S., will get a strong sendoff from the anime, which is airing on Cartoon Network to strong ratings ('G Gundam Tops Anime Ratings'). There is also a ton of other Gundam merchandise, including books, RPGs, DVDs, and toys (see 'New Gundam Series in Japan and U.S.').
Gatekeepers
, a science fiction series written and illustrated by Keiji Gotoh (Nadesico), was the source material for an anime from Gonzo that will be released in the U.S.

Scryed, a science fiction series featuring X-Men-like 'Alter-Users,' is written by Yosuke Kuroda and illustrated by Yasunari Toda.

It was turned into an anime from Sunrise.

Rave is an action-adventure manga with fantasy overtones by Hiro Mashima that's been turned into a top-rated anime in Japan that's also coming to the U.S.

Jing:

King of Bandits is a fantasy manga that also inspired an anime that's, you guess it, headed to the U.S.

And Samurai Deeper Kyo, written by Akimine Kamijiyo, was made into an anime by Studio Deen for TV Tokyo.