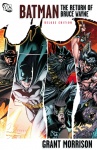 After a precipitous decline in January, year-over-year sales of periodical comics leveled off in February, with dollars down just 1.7% and units falling only 2.31% according to figures released by Diamond Comic Distributors today. Even though the number of graphic novels sold in February 2011 was down by 1.7% from 2010, a platoon of higher priced titles with the deluxe edition hardcover of Batman: The Return of Bruce Wayne ($29.99) leading the way pushed year-over-year dollar sales of graphic novels up a solid 6.92%, which was enough to move the total for combined February sales of comics and graphic novels into positive territory by slightly less than 1% (.94% to be exact).
It should be noted that comic sales in February of 2010 were down 3% from 2009, so it wasn't the strongest month, but the February 2011 performance marks a definite improvement over the heavy bleeding of January' in year-over-year terms. Still for the first two months of 2011 dollar sales of periodical comics are down 12.1% and graphic novel dollars are still down 5.48%.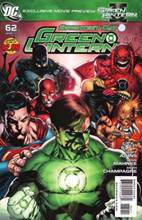 Green Lantern #62
was the bestselling comic of the month (ICv2 will have its estimates for the Top 300 comics and graphic novels up early next week). The build-up in sales for DC's
Green Lantern
began even before the
Blackest Night
event and has continued through
Brightest Day
with
Brightest Day #19
and
#20
taking the second and third spots. This steady increase in the popularity of the
Green Lantern
comics along with the special movie preview elements included in the
Green Lantern
books should translate into solid support from the fan community for Warner Bros.'
Green Lantern
movie, which debuts this summer.
DC managed to snag six of the top ten spots on the comics chart, but Marvel kept a commanding lead in market share (40.69% to 27.74% in dollars). Image Comics' share declined from January, but its 5.31% share of dollars was good enough for third place. As has often been the case lately Dark Horse Comics nosed out IDW for the fourth spot thanks to a lead in dollars (5.26% to 4.6%) even though IDW led in units (4.14% to 3.9%). Dynamite Entertainment's share grew to 3.6% in dollars in February.
As previously mentioned, Grant Morrison's
Batman: The Return of Bruce Wayne
, which has also done very well in the bookstore market (see "
Naruto Back on Top
"), topped the graphic novel sales chart for February. Seven of the top ten graphic novels had cover prices of $14.99 or more, which certainly helped drive dollar sales. However mention should be made of a couple of lower-priced entries including Nick Spencer's
Morning Glories Vol.1
($9.99) from Image, which was a surprise #2 and Masashi Kissimoto's
Naruto Vol. 50
($9.99) from Viz Media, which was the highest ranking manga release at #3.