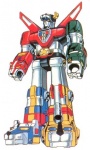 A press release from Classic Media and World Event Productions indicates that Dynamic Forces the parent company of Dynamite Entertainment has acquired the rights to publish new comic books and graphic novels based on the classic
Voltron
property. Last spring news leaked out that Moonstone Books had been out bid in attempt to secure the
Voltron
license, though Moonstone did publish a
Voltron
coffeetable book (see "
Moonstone Launches Voltron Art Book
"). Previously Dynamite snagged the rights to the
Green Hornet
(though it is not clear that Moonstrone ever attempted to secure the license for a monthly
Green Hornet
comic) and wrested the
Phantom
comic book rights away from Moonstone.
Dynamite has not yet announced the acquisition of the property or the date of release of its Voltron comic. The most recent Voltron comics were published by Devil's Due, which acquired the license in 2002. Devil's Due published a five-issue mini-series followed by an 11-issue ongoing Voltron series that ended in 2005. A second 5-issue miniseries from Devil's Due debuted in 2008 and marked the end of the modern era of Voltron comics.
But the
Voltron
property appears to be on the verge of a major revival. The
Voltron Force
cartoon series will debut on Nicktoons this year. Powerhouse toymaker Mattel is on board as the master toy licensee (see "
Mattel Gets Volton
"), and Viz Media has acquired the rights to publish
Voltron Force
graphic novels for kids. Video game maker THQ has acquired the rights to produce video games based on the
Voltron
franchise.
Not only is the
Voltron
TV series happening, but the long-gestating
Voltron
feature film project is building up a head of steam and could potentially hit theaters in 2013 or 2014. According to
New York Magazine's
Vulture blog
there is a spirited bidding war among Hollywood studios for a big budget
Voltron
feature film with Paramount, a studio with a dearth of tentpole properties and perhaps an "in" due to the fact that it is a sister company to Nicktoons where
Voltron Force
airs, in the lead.