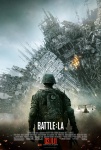 Sony's alien invasion film Battle: Los Angeles easily topped the weekend box office with an estimated $36 million as it lured male action movie fans back into the theaters. But the other two widely released debut films Red Riding Hood ($14.1 million) and Mars Needs Moms ($6.8 million) failed to generate much interest and the total for the top ten films was down 13% from the same frame last year when Alice in Wonderland scored a mammoth $62.7 million in its second weekend.
The $70 million
Battle: Los Angeles
drew an audience that was 68% male and 55% over 25. Its $36 million opening weekend total was very similar to
District 9
, though
Battle: Los Angeles
got poor reviews (only 31% positive on Rotten Tomatoes) whereas
District 9
was a critic's darling.
Battle: Los Angeles
only received a mediocre "B" CinemaScore from its audience though it got an "A-" from those under 25.
Weekend Box Office (Studio Estimates): March 11 - 13, 2011

Film

Weekend Gross

Screens

Avg./

Screen

Total Gross

Wk#

1

Battle: Los Angeles

$36,000,000

3,417

$10,536

$36,000,000

1

2

Rango

$23,050,000

3,923

$5,876

$68,653,000

2

3

Red Riding Hood

$14,135,000

3,030

$4,665

$14,135,000

1

4

The Adjustment Bureau

$11,459,000

2,847

$4,025

$38,451,000

2

5

Mars Needs Moms

$6,800,000

3,117

$2,182

$6,800,000

1

6

Hall Pass

$5,105,000

2,555

$1,998

$34,936,000

3

7

Beastly

$5,090,000

1,959

$2,598

$16,980,000

2

8

Just Go With It

$4,000,000

2,398

$1,668

$93,982,000

5

9

The King's Speech

$3,625,000

1,768

$2,050

$129,062,000

16

10

Gnomeo and Juliet

$3,546,000

2,585

$1,372

$89,031,000

5
Red Riding Hood fared even worse with the critics (only 11% positive) and its $14.1 million was way below predictions. Directed by Twilight helmer Catherine Hardwicke, Red Riding Hood was supposed to attract the younger female movie-going audience that made Twilight such a monster hit. It did attract females, just not enough of them—women made up 64% of the crowd with 56% under 25. Red Riding Hood received only a "B-" CinemaScore, which is bad news for its future prospects. But the film may have also damaged the prospects of the live-action fairy tale genre in general and done some damage to the two prospective Snow White films in particular. Another fairy tale picture aiming for the young female audience, Beastly fell from #3 to #7 in its second weekend, which certainly doesn't do much for the genre either.
But the real bomb of the weekend was Disney's Mars Needs Moms, a $150 million motion capture movie based on a children's book by Berkeley Breathed (Bloom County). Even with higher 3D and IMAX prices Mars Needs Moms earned just $6.8 million. Mars Needs Moms actually received the highest critical rating on Rotten Tomatoes of any of the widely distributed new films (40% positive), but that wasn't enough to make up for the essential "creepiness" of the motion-capture process that was on full display in the numerous TV ads for the film. Suspended somewhere between live-action and animation, mo-cap movies can be shudder-inducing misfires. The lack of any major hits using the process and the fact that mo-cap movies are so expensive will likely consign the technique back to the videogame world from which it emerged. After Disney execs saw Mars Needs Moms they shuttered their mo-cap unit. Judging from the audience response to the film, they made the right call.
Meanwhile the Johnny Depp-starring animated movie Rango, which topped the box office last week, dropped just 39% and finished in second place with just over $23 million.