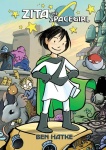 We recently had a chance to talk to First Second Editorial Director Mark Siegel about the company's releases for 2011, and the state of the company's graphic novel business coming out of 2010 and into 2011. Below, we discuss First Second's highest potential releases in 2011. In "
Siegel on Selling Graphic Novels
," we talked about First Second's sales in 2010, the changing bookstore environment, the sales on the company's best sellers in its five year history, and his take on Borders.
What are you excited about in 2011? What are the big releases?
On the young end of the list, there are a few things spread out over the year that I think are just some extraordinary projects starting with Zita The Space Girl, which is by Ben Hatke. Some people know him from his Webcomic online. This one is just going out the door with star reviews and it's one of these contagious books. My five-year-old son is hooked on it.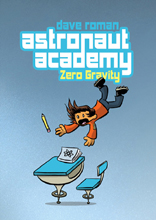 Then we have
Astronaut Academy
, which is by Dave Roman. I don't know if you remember the feeling when
The Simpsons
first came out and it was Matt Groening's weird, out-of-left-field humor which was very fresh and odd and different? That's the feeling I get with this. It's potentially a long running series. That's on the young end.
We have Sara Varon's new one, Bake Sale coming out in fall. Robot Dreams was hers and is one of our bestselling titles. She's a true artist, I think, a major author.
Then we've got a big bold project coming out, which is our Nursery Rhyme Comics and that has 50 contributors, a lot of First Second talent obviously, and has been edited by Chris Duffy, formerly from Nickelodeon Magazine. He's gathered this A-list of talent that you wouldn't believe. It includes Roz Chast, Jaime Hernandez, Mike Mignola, Richard Thompson, Craig Thompson, Jules Feiffer, and a bunch more. It's great. It's true nursery rhymes. It's not really winking at adults so much as really aiming at the nursery rhyme reader. It's the classic canon of nursery rhymes—"Baa Baa Black Sheep" to "The Cow Jumped over the Moon" and everything else. That I think is going to be a big moment for us. It has an introduction by Leonard Marcus and it's just the whole package--something that should be around for a long time.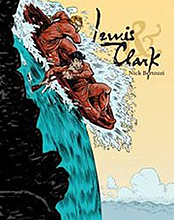 That's just on the young end of the list. Then, if I jump to the other end, we have things like historical fiction. We have
Lewis and Clark
, which is the first of Nick Bertozzi's explorers and that's his life-long passion. He's been researching explorers. I think the next one is Ernest Shackleton. It just an incredible story, incredibly well told, incredibly smartly written and he really gets into the depression aspect and the psychological underpinnings of the
Lewis and Clark
story in a way where people will sit up and take notice even in the academic world.
And still on the academic front, we have Feynman, that's Jim Ottaviani from his non-fiction science comics. He did Bone Sharps, Cowboys, and Thunder Lizards and Two-Fisted Science. He's a former nuclear engineer and this is Feynman, this is a bio of the Nobel physicist Richard Feynman. Extraordinary book with art by Leland Myrick; it's really a stunning book. It's a big book. It's going to sit there on the shelf with the classic Feynman books. He's a kind of rock star physicist and you get Los Alamos and the Manhattan Project. His story, which is an incredible story, just comes alive. We have the Feynman estate; Feynman's brother was involved with this as well. That's big non-fiction release on the adult side.
So I jumped deliberately from the young end of the list to the adult. The adult also includes things like Zahra's Paradise, which is a project I'm very interested in. We've been serializing it online and it's by these two Iranian dissidents. It's life in Iran today, the composite of real characters, but it's fictionalized, starting during the unrest in 2009. It's a story of a blogger and his mother searching for a missing son after the protests. It takes you deep into this labyrinthian regime in Iran. Quite horrific. It takes you into the prison system, it takes you into hacking--there's a whole scene to do with technology and how that plays into events now which is very timely, very current. And that's online. This has been making history already.
Is this the first of First Second's Webcomics that's getting published?
It'll be the first one published in print. There's my own project, Sailor Twain, and there's Americus, which we've done, there's a Derek Kirk Kim project that we're about to re-launch, and another Faith Erin Hicks project.
What kind of traction are you getting from Webcomics? Do you have any feel for unique users?
I have to check with Zahra's Paradise. I know for Sailor Twain we've passed 310,000 unique visitors since it launched. And with Zahra's Paradise, we're up to 200,000 [in all languages]. It's dominantly the English version that's being read, with some of the Western European languages coming in next. We can tell it's being read in Iran as well, which is kind of an amazing thing. It's read in 120 countries.
We got some major international media on this. It's serializing in a dozen different languages right now, including Arabic, Farsi, and Hebrew. We sold twelve languages before the second chapter was even up online. So each of these languages is a foreign partnership and that's going to release worldwide on September 13th.
It's gotten a lot of attention from big media all over Europe, and some here though not as much. It's getting there. We're definitely making noise now. That's one of the sides of First Second that's always been there, these human race issues, world affairs projects. And this one I'm especially proud of. I think it's going to be an extraordinary book.
That whole experiment has been really interesting and rewarding. Each one of these online comics is a very different project. Zahra's Paradise had to be online because it's urgent to get out and I feel there's a sense of mission about this project. We want this to be a thorn in the side of the public relations in the Iranian regime.
And then just for contrast's sake, we have something like Orcs. Stan Nicholls has these novels, they've sold 1.5 million copies in England alone. I got hooked onto one of these books. It's very primal. The orcs are the most reviled, they're the disgusting creature in Tolkien of course, but in World of Warcraft--there's like 9 million people out there killing orcs. But in this case, you basically side with the orcs and you're in a band of orcs and you come to see the world through their eyes. It's great. Even the humans and all of their dirty tricks seems like villains. We've got this really, really well put together original Orcs story from the Orcs universe of Stan Nicholls. The artwork is Joe Flood. It's gory. It's spectacular.
The picture I'm painting here is the range that First Second is always aiming for, but it took time for us to develop. Now we have a backlist of some 60 titles under our belt, and we can show these different strands of the collection as opposed to just having an eclectic list.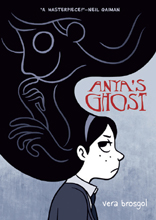 I should also mention
Anya's Ghost
, which is that Vera Brosgol. She was one I was trying to sign up pretty much from day one, and then she showed up with this magnificent story called
Anya's Ghost
.
We also have the new Gene Yang with Thien Pham doing the artwork called Level Up.
You can see that 2011, everything's ramping up. It's not going to stop either. In 2012 we have big guns coming--heavy artillery.
Anything else about what First Second is doing this year that our readers might be interested in?
We're basically pushing both on the adults and on the children's. Bordering children's and young adult is something like the
Olympians
series, which is doing really well. The first ones got into the Scholastic Book Fairs.
There's also Derek Kirk Kim's
Same Difference
, we're reissuing that--it was first published by Top Shelf. And we're doing this really beautiful object with a cover like you've never seen before and that's something I'm proud of and excited about.
Click here
to read the first part of our interview with Mark Siegel.