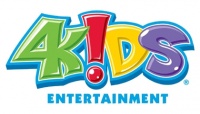 4Kids Entertainment and 11 affiliated companies filed for Chapter 11 bankruptcy protection in federal bankruptcy court on Wednesday. The company listed assets of $23,372,000 and liabilities of $16,526,000 and indicated that it expected to have money to disburse to its unsecured creditors.
The company had warned last week that it might have to file Chapter 11 (see "4Kids Threatens Chapter 11") if it was not able to settle litigation with TV Tokyo and NAS, which terminated 4Kids' rights to Yu-Gi-Oh! and alleged that 4Kids had secretly hidden moneys on which it should have paid the rightsholders royalties (see "4Kids Sued").
4Kids listed its debts in the filing, all but one of which (the credit card bill to J.P. Morgan Chase for $67,887) was disputed. The Pokemon Company International was the largest creditr, with $4.7 million owed. Second was Asatsu-DK (parent of NAS, above), with $4,221,626 owed. Third was CW network, home of 4Kids' Toonzai programming block on Saturday mornings, with $1,987,000 owed.
One other debt that stuck out was $80,000 owed to Bryan Gannon, former CEO of TC Digital, producer of the Chaotic TCG. 4Kids shut down its game operations last year after massive losses.